Essential Guide
The go-to Windows PowerShell guide
A comprehensive collection of articles, videos and more, hand-picked by our editors
Q
Evaluate
Weigh the pros and cons of technologies, products and projects you are considering.
Can I access the clipboard in PowerShell 5.0?
The new version of PowerShell in Windows 10 makes it easier than ever to interact with the clipboard using a few simple commands.
FROM THE ESSENTIAL GUIDE:
It has been possible to interact with the Windows clipboard from PowerShell for quite some time, but Microsoft made the process much easier in PowerShell 5.0.

Download this free guide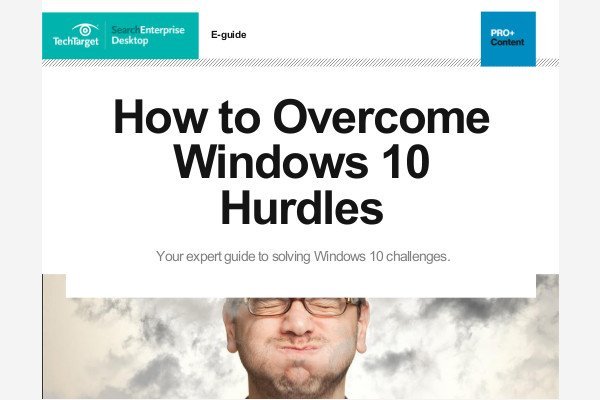 Download Our 25-Page Guide: How to Overcome Windows 10 Hurdles
After upgrading to Windows 10, many IT departments run into challenges with the new OS. Access our comprehensive guide on how to solve the most common Windows 10 problems.
By submitting your personal information, you agree that TechTarget and its partners may contact you regarding relevant content, products and special offers.
You also agree that your personal information may be transferred and processed in the United States, and that you have read and agree to the Terms of Use and the Privacy Policy.
In PowerShell 4.0, the easiest way to interact with the clipboard from PowerShell was to call an executable file named clip.exe. For example, if you wanted to copy PowerShell's output to the clipboard, you could write a line of code that would pipe the output to clip.exe.
In PowerShell 5.0, Microsoft introduced new cmdlets that simplify working with the clipboard. One is Get-Clipboard. Upon entering this cmdlet, PowerShell will display any text on the Windows clipboard. Similarly, you can copy text to the Windows clipboard by using the Set-Clipboard cmdlet.
PowerShell 5.0 is a text-based interface, so you would probably expect the Get-Clipboard and Set-Clipboard cmdlets to also be text based. These PowerShell cmdlets work with clipboard text by default, but text is not the only option. PowerShell can also work with file drop lists, audio and video. You can specify the data type by including the Format switch followed by either Text, FileDropList, Image or Audio.
Incidentally, if you do decide to work with text, there is a TextFormatType switch that you can use to specify the type of text that you want to work with. Possible values for this switch include Text, UnicodeText, RTF, HTML and CommaSeparatedValue.
The various clipboard options open up a lot of possibilities for PowerShell scripting. For example, the file drop list support allows you to programmatically select a group of files and take action on those files.
The command syntax isn't overly difficult, but if you need some help with using the commands then the easiest thing to do is to use the Get-Help cmdlet, followed by the name of the cmdlet that you need help with. For instance: Get-Help Get-Clipboard.
PRO+
Content
Find more PRO+ content and other member only offers, here.
When companies choose a private cloud storage provider, it's important that they understand what the internal IT department is responsible for, as ...continue reading
It might be effective, but Windows Firewall is not the be-all and end-all of security. In some cases, third-party firewalls add the extra layer of ...continue reading
Don't overlook the advantages of private cloud when choosing a cloud storage implementation. Security, cost and ease of transition make it a viable ...continue reading
Have a question for an expert?
Please add a title for your question
Get answers from a TechTarget expert on whatever's puzzling you.