Q
Get started
Bring yourself up to speed with our introductory content.
How do PowerShell execution policies prevent malicious activity?
There are four common execution policies IT administrators can choose from to secure PowerShell against malicious attacks. Figure out which one is right for you to secure your OS.
FROM THE ESSENTIAL GUIDE:
There has always been some degree of concern from the IT community that someone could use PowerShell for malicious purposes because the scripting utility can interact with the Windows operating system on a deep level.

Download this free guide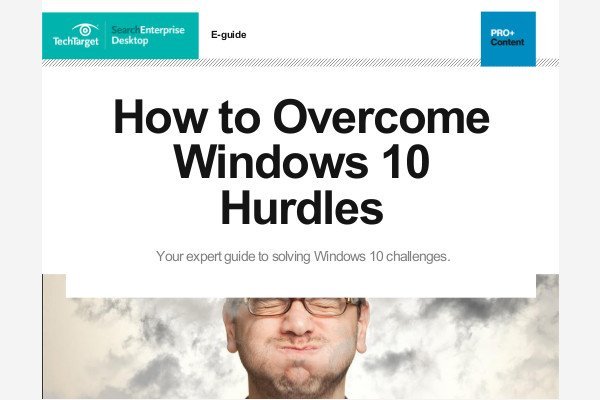 Download Our 25-Page Guide: How to Overcome Windows 10 Hurdles
After upgrading to Windows 10, many IT departments run into challenges with the new OS. Access our comprehensive guide on how to solve the most common Windows 10 problems.
The primary mechanism that prevents PowerShell from being misused is the execution policy. PowerShell execution policies determine the conditions when PowerShell scripts are -- or are not -- allowed to work. There are six PowerShell execution policies. The four most common ones are:
Restricted: PowerShell scripts cannot execute and configuration files cannot load.
AllSigned: PowerShell scripts can only execute if they are signed by a trusted publisher. Configuration files must also be signed.
RemoteSigned: PowerShell scripts or configuration files that have been downloaded from the internet must be signed. Locally created scripts and configuration files do not have to be signed.
Unrestricted: Any script can run, and any configuration file may be used. There is no requirement for code signing.
IT administrators can set the execution policy from the PowerShell prompt by using the Set-ExecutionPolicy cmdlet, followed by the name of the execution policy. Verify the change with the Get-ExecutionPolicy cmdlet.
Admins can also control PowerShell execution policies at the Group Policy level. The computer-level settings for doing so are found in the Group Policy Object Editor at Computer Configuration > Policies > Administrative Templates > Windows Components > Windows PowerShell. User configuration settings are available at User Configuration > Policies > Administrative Templates > Windows Components > Windows PowerShell.
PRO+
Content
Find more PRO+ content and other member only offers, here.
Social network backup tools are hard to find, but they are out there. Like with file data, your organization should make sure its social media data ...continue reading
The idea of chargebacks is to help organizations use private cloud resources efficiently by making departments pay for what they use, but the ...continue reading
Microsoft Word may be the go-to application for word processing, but there are solid alternatives that organizations can turn to instead.continue reading
Have a question for an expert?
Please add a title for your question
Get answers from a TechTarget expert on whatever's puzzling you.