This Content Component encountered an error
Looking for something else?
TECHNOLOGIES

PRODUCTS
This Content Component encountered an error
This Content Component encountered an error
I just got a Windows startup error on boot that says "BOOTMGR is compressed." What happened?
BOOTMGR, or Boot Manager, is a hidden system file that's part of the Windows startup process. At startup, the boot sector on your system drive loads BOOTMGR, which then looks for an active partition with a BCD (Boot Configuration Data) file. If the Windows Boot Manager can't be read for some reason, the boot process is interrupted.

Download this free guide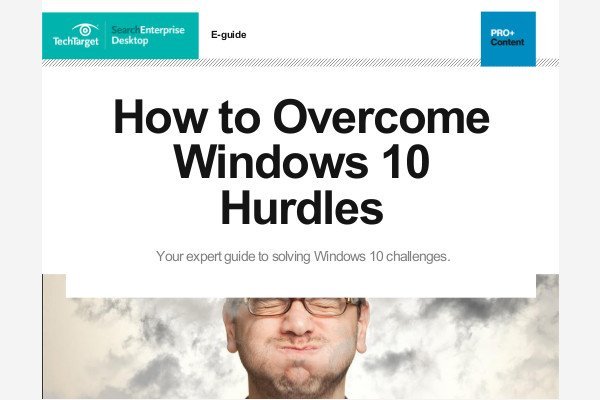 Download Our 25-Page Guide: How to Overcome Windows 10 Hurdles
After upgrading to Windows 10, many IT departments run into challenges with the new OS. Access our comprehensive guide on how to solve the most common Windows 10 problems.
By submitting your personal information, you agree that TechTarget and its partners may contact you regarding relevant content, products and special offers.
You also agree that your personal information may be transferred and processed in the United States, and that you have read and agree to the Terms of Use and the Privacy Policy.
The most common reason for a problem with BOOTMGR is that it's damaged or missing. Sometimes, though, BOOTMGR can be compressed and left in an unreadable state as well.
One of the long-standing features of NTFS volumes is in-place file compression, which allows sparse files or easily compressible data (such as plaintext) to be stored efficiently. Over time, though, storage has become so cheap that the need for on-disk compression has waned, and third-party programs can provide far better compression ratios than something integrated with the file system.
That said, the on-disk compression system in NTFS remains available. Unfortunately, if it's used mistakenly to compress the BOOTMGR file -- which is, after all, just another NTFS file -- then it renders the Windows Boot Manager useless. Badly written third-party "system optimization" tools are notorious for doing things like this.
The best way to fix this in Windows Vista and up is to boot into the Recovery Console and submit the following commands in this order:
bootrec /fixmbr
bootrec /fixboot
bootrec /rebuildbcd
The last command will prompt you to add the current Windows installation to the boot list; say, "Yes" to this option, and reboot.
If this fails, boot to the Recovery Console again and issue the command compact /u /a c:*.* This will attempt to undo all of the file-system-level compression on the C: drive (assuming C: is your system drive), and it may take quite some time to complete.
Do you have questions for our experts? Email editor@searchenterprisedesktop.com.
This Content Component encountered an error
This Content Component encountered an error
This Content Component encountered an error
Have a question for an expert?
Please add a title for your question
Get answers from a TechTarget expert on whatever's puzzling you.