Q
Get started
Bring yourself up to speed with our introductory content.
Should I be concerned about Windows 10 application compatibility?
Microsoft expects most applications developed for older OSes to work fine on Windows 10, but administrators shouldn't expect every application to work perfectly.
FROM THE ESSENTIAL GUIDE:
Microsoft hasn't said much about application compatibility and Windows 10, but the implication is that most Windows 7 and 8 applications should work just fine on Windows 10.

Download this free guide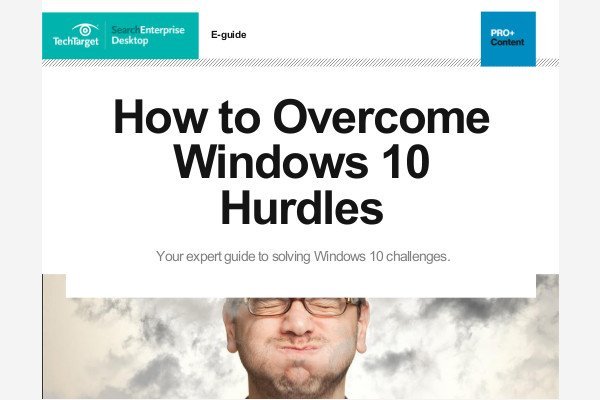 Download Our 25-Page Guide: How to Overcome Windows 10 Hurdles
After upgrading to Windows 10, many IT departments run into challenges with the new OS. Access our comprehensive guide on how to solve the most common Windows 10 problems.
By submitting your personal information, you agree that TechTarget and its partners may contact you regarding relevant content, products and special offers.
You also agree that your personal information may be transferred and processed in the United States, and that you have read and agree to the Terms of Use and the Privacy Policy.
Microsoft states on its website that "most programs created for earlier versions of Windows will work in this version of Windows." The context of this statement is that the vast majority of applications that were written for Windows 7 or Windows 8 should work with Windows 10 without issue.
Keep in mind however, that this is a general statement. It is not a guarantee that any application that runs on Windows 7 or on Windows 8 will run on Windows 10. Even before Windows 10 was released to manufacturers in July 2015, there were plenty of posts on message boards from users who experienced problems making various applications work with the Windows 10 preview.
From an application compatibility standpoint, upgrading to Windows 10 will be a lot like upgrading to Windows 8 from Windows 7.
Some users and administrators say that Windows 8 is just Windows 7 with a new user interface attached, and while there are plenty of other differences between the OSes, they are similar enough for this claim to crop up frequently. Even so, there were some applications that ran fine on Windows 7, but that would not work on Windows 8 without a bit of tweaking. I expect the same thing to happen when it's time to upgrade to Windows 10.
In the meantime, Microsoft has a tool that lets Windows 7 and Windows 8 users check application compatibility: the Get Windows 10 app. It has a drop-down menu with an option to check your PC. When a user selects this option, the app states that he should check the report later for updates about apps and devices. It goes on to say that Microsoft is continuously working with partners to make more apps and devices compatible with Windows 10.
PRO+
Content
Find more PRO+ content and other member only offers, here.
Social network backup tools are hard to find, but they are out there. Like with file data, your organization should make sure its social media data ...continue reading
The idea of chargebacks is to help organizations use private cloud resources efficiently by making departments pay for what they use, but the ...continue reading
Microsoft Word may be the go-to application for word processing, but there are solid alternatives that organizations can turn to instead.continue reading
Have a question for an expert?
Please add a title for your question
Get answers from a TechTarget expert on whatever's puzzling you.