Gunnar Assmy - Fotolia
Q
Evaluate
Weigh the pros and cons of technologies, products and projects you are considering.
Untangling the Gordian knot of the Windows boot process
An infinite reboot loop is a common issue with the Windows boot process. Start up in Windows Safe Mode to diagnose device driver or hardware problems.
A number of things can cause a desktop or laptop computer to constantly reboot without ever actually completing the Windows boot process. The causes can range from a buggy patch or device driver to a hardware problem.

Download this free guide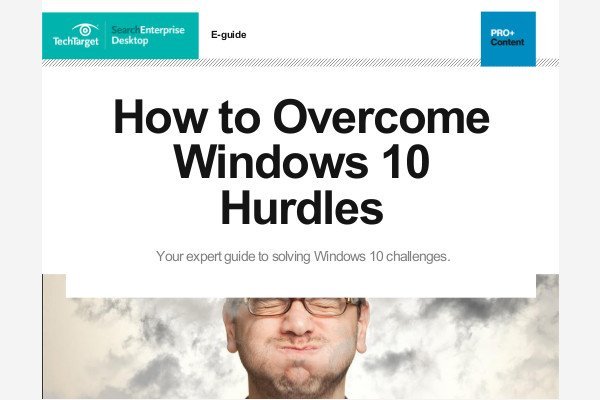 Download Our 25-Page Guide: How to Overcome Windows 10 Hurdles
After upgrading to Windows 10, many IT departments run into challenges with the new OS. Access our comprehensive guide on how to solve the most common Windows 10 problems.
By submitting your personal information, you agree that TechTarget and its partners may contact you regarding relevant content, products and special offers.
You also agree that your personal information may be transferred and processed in the United States, and that you have read and agree to the Terms of Use and the Privacy Policy.
When dealing with an infinite reboot loop, the first thing that I recommend is to try to boot the computer into Safe Mode. You should be able to do this by pressing the F8 key during the early phases of the boot process. Safe Mode offers very limited functionality, but it can help you to diagnose and repair the problem.
If the computer boots into Safe Mode, then you can usually (but not always) rule out a hardware problem. When a computer boots into Safe Mode successfully but will not boot normally, the problem is almost always related to a bad device driver or to some other piece of software that is loading during the Windows boot process.
Disable everything nonessential and reboot the computer. If the system boots normally, then try re-enabling drivers and software, but do one thing at a time, rebooting between each. This will allow you to tell which component is causing the problem.
If booting to Safe Mode does not work or if you are able to boot to it but the system eventually reboots anyway, then you may have a hardware problem. If the computer is running a version of Windows that is earlier than Windows 8, then look for the infamous blue screen of death (BSOD). This screen contains error codes that you can use to help diagnose the problem.
If you do see the BSOD -- or the Windows 8 equivalent -- the problem is very often related to bad memory. Swapping the memory out may cause the problem to go away. If that doesn't work, then you might consider reloading Windows and testing other hardware components.
Dig Deeper on Patches, alerts and critical updates
PRO+
Content
Find more PRO+ content and other member only offers, here.
IT can have trouble managing user profiles that are separate from the desktop images in nonpersistent VDI, but they can make things easier with user ...continue reading
Microsoft Excel may be widely used, but other spreadsheet applications such as Google Sheets and Thinkfree are available for organizations to use.continue reading
Social network backup tools are hard to find, but they are out there. Like with file data, your organization should make sure its social media data ...continue reading
Have a question for an expert?
Please add a title for your question
Get answers from a TechTarget expert on whatever's puzzling you.