Essential Guide
Guide to app portability and interoperability
A comprehensive collection of articles, videos and more, hand-picked by our editors
application virtualization (application portability or application service virtualization)
Application virtualization (also known as application portability or application service virtualization) is the practice of running software from a remote server rather than on the user's computer. Dynamic link library (DLL) programs redirect all the virtualized application's calls to the server's file system... (Continued)
FROM THE ESSENTIAL GUIDE:
Application virtualization (also known as application portability or application service virtualization) is the practice of running software from a remote server rather than on the user's computer. Dynamic link library (DLL) programs redirect all the virtualized application's calls to the server's file system. When software is run from the server in this manner, no changes are made to the local computer's operating system (OS), file system or registry. Computing resources are allocated based on changing requirements in real time.
IT Acronyms - A Quick Reference Guide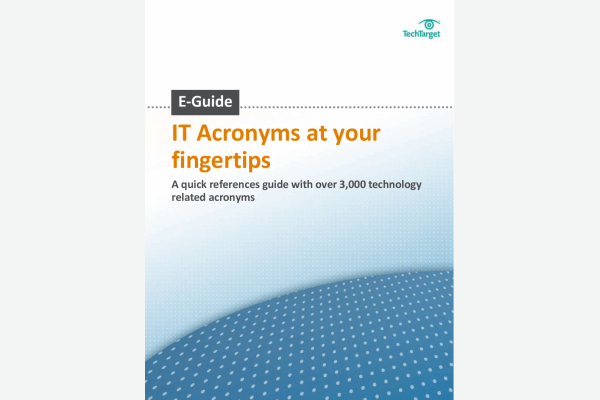 Download this free quick reference guide with over 3,000 IT acronyms; including a special section of the top 15 acronyms you need to know today.
By submitting your personal information, you agree to receive emails regarding relevant products and special offers from TechTarget and its partners. You also agree that your personal information may be transferred and processed in the United States, and that you have read and agree to the Terms of Use and the Privacy Policy.

Advantages of application virtualization include:
Cost savings on hardware.
Cost savings on software and OS licenses.
Ability to handle large and fluctuating work volume.
Ability to run multiple versions of an application program concurrently on a single computer.
Ease of application management, upgrading and migration.
Ability to leverage resources without adversely impacting users.
Optimal utilization of existing hardware.
Flexibility in the acquisition of hardware resources.
Enhanced system reliability and scalability.
Application virtualization is useful in diverse scenarios such as e-commerce, banking, stock trading, insurance administration, business simulations, supply chain management and assistive software.
Continue Reading About application virtualization (application portability or application service virtualization)
Glossary
'application virtualization (application portability or application service virtualization)' is part of the:
View All Definitions