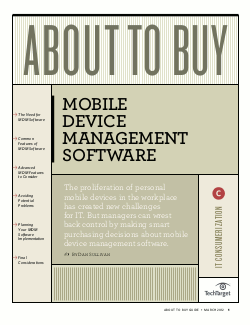 About to Buy Guide: Mobile Device Management Software
With the rise of the bring-your-own-device (BYOD) trend, creating an effective mobile management strategy is more crucial than ever. Unfortunately, most of your existing management tools are designed only for servers, desktops and laptops, and are unable to support today's diverse mobile devices. Mobile device management (MDM) software is tailored specifically for configuring and securing your end users' personal devices, including smartphones and tablets, but with all the options available, how do you determine which tools will give you the level of security and control you need?
Download this essential guide today to ensure you're getting the most from your mobile management investments and avoid potential pitfalls as you plan your MDM implementation.
This was first published in November 2012