Letter #3: Internet Explorer gets the edge
When asked which browser will win them over -- Internet Explorer or Firefox -- SearchWindowsSecurity.com readers' choices are clear. Read one of six letters to the editor.
Looking for something else?
When asked which browser will ultimately win them over -- Internet Explorer or Firefox -- SearchWindowsSecurity.com readers have a lot to say. The following commentary is one of six letters to the editor describing why readers are sticking with IE or why they switched to Firefox. Some also offer best practices to help you lock down Internet use in spite of browser weaknesses. Click for the complete series.
---
Letter #3: Internet Explorer gets the edge
Reader: Bob Konigsberg
President
Network Evaluation
Los Gatos, Calif.
Environment: I'm a consultant whose focus is computer and network security. I use Windows 2000 Professional for my daily work, but I also use Windows XP Professional, 98, Windows server 2000 and 2003, and I still have one or two machines running Windows NT. I have used many browsers: IE, Netscape, Opera, Older Mozilla and now Firefox.

Download this free guide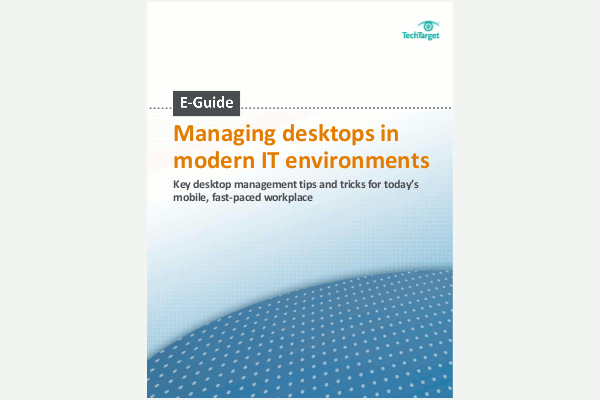 Download: Modern desktop environments require new management strategies and tools
Managing desktop environments in today's complex IT environments is becoming increasingly challenging as trends like mobility continue to infiltrate the workplace. Find out expert best practices for identifying and avoiding hidden costs, minimizing mobile security risks and satisfying the needs of both IT and end-users.
By submitting your personal information, you agree that TechTarget and its partners may contact you regarding relevant content, products and special offers.
You also agree that your personal information may be transferred and processed in the United States, and that you have read and agree to the Terms of Use and the Privacy Policy.

Internet Explorer or Firefox: Internet Explorer
Why IE: I have no problems in particular with IE. I continue to use IE because it's required for Windows/Office Update sites, and there are a number of other sites, especially those using plug-ins (Like Java) that work better with IE.
Firefox as a future attack target: I'm no more concerned about Firefox becoming a target than I am with IE, in the sense that hackers go after their target audiences. Microsoft has made significant strides with their secure computing initiative, and will continue to do so. I expect that both will be hacked. However Microsoft has an edge in smooth patching mechanisms available.
What Microsoft should do to fix browser problems: It's not what Microsoft does so much as it is which browser works with which sites or applications. Firefox is still not mature enough. Only time will tell.
How to enforce safe browsing:
Never click on any pop-up, ever, except to close it
Never download or install any add-in, even if it tells you that you must install it to see a Web page. The exception are known add-ins like Acrobat, Macromedia and QuickTime.
Never follow ads for anything free
Let your mouse hover over links in e-mails so you can see if the real link matches what it appears to be. This is especially important to avoid phishing e-mails. It doesn't matter if you don't understand the link, just make sure they match.
---
For more letters to the editor, click for the complete series.
---
Dig Deeper on Microsoft Windows desktop operating systems security management
PRO+
Content
Find more PRO+ content and other member only offers, here.