Microsoft drops a holiday bomb on December's Patch Tuesday
Microsoft is ending the year with a bang. It released 17 security bulletins this Patch Tuesday -- the largest number ever.
Looking for something else?
'Tis the season for giving, and this Patch Tuesday, Microsoft was especially generous to administrators, with 17 security bulletins. This is the largest number of patches in one month during the 12-year history of the Security Response Center. With 106 bulletins total in 2010, the company also surpassed its record for the highest number of bulletins in one year. The prior record was 100 in 2000.

Download this free guide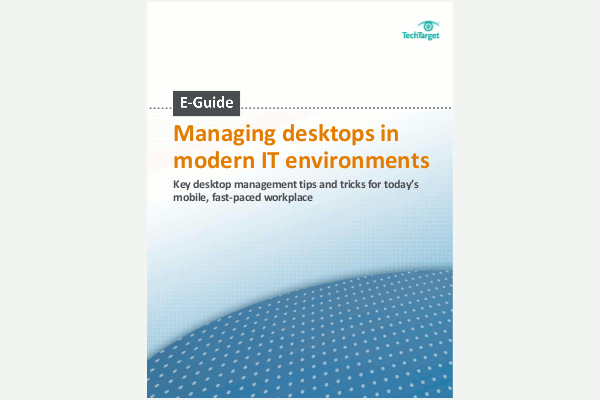 Download: Modern desktop environments require new management strategies and tools
Managing desktop environments in today's complex IT environments is becoming increasingly challenging as trends like mobility continue to infiltrate the workplace. Find out expert best practices for identifying and avoiding hidden costs, minimizing mobile security risks and satisfying the needs of both IT and end-users.
By submitting your personal information, you agree that TechTarget and its partners may contact you regarding relevant content, products and special offers.
You also agree that your personal information may be transferred and processed in the United States, and that you have read and agree to the Terms of Use and the Privacy Policy.

So where do you start?

Install the two critical bulletins -- MS10-090 and MS10-091 -- right away.

MS10-090 is a cumulative update for all versions of Internet Explorer. The bulletin addresses seven security vulnerabilities, including three that were publicly reported and one that is being exploited on the Internet. Visiting a malicious website can enable attackers to run code of their choice on a user's computer. An attacker will gain the same rights as the logged-on user, and if the user is logged on with full administrator rights, his computer won't be his own for long.

MS10-091 deals with a flaw in the OpenType font driver. The attacker must entice the user to visit a specially crafted network share using Windows Explorer. Viewing the share exploits the vulnerable OpenType driver and lets the attacker execute code at the system level. Unlike the Internet Explorer problem, this attack can take complete control of the user's system regardless of the permissions of the currently logged-on user. This is the third OpenType font vulnerability this year.

After patching these two critical vulnerabilities, consider installing MS10-092 and MS10-101 next, which address flaws in the task scheduler and domain controller, respectively. They are frequent targets of hackers and employees with too much time on their hands.

MS10-092 addresses an elevation-of-privilege attack, in which a flaw allows lesser-privileged users to run code on local computers and access high-level information. This patch affects the task scheduler on Vista, Windows 7 and Windows Server 2008 systems that can allow a user to launch tasks as an administrator by scheduling jobs using triggers. Microsoft said the vulnerability is publicly known and that it has received reports of known attacks.

The domain controller bulletin, MS10-101, warns of a denial-of-service attack on Windows Server 2003 and 2008 systems. Disgruntled employees with administrative access can send malicious packets to the domain controllers on their networks and cause the domain controller to reboot. Rebooting domain controllers affects user logins and access to domain resources. Given the number of users who may have administrative access to their own domain-joined workstations -- or those who gain such access through privilege-escalation attacks -- this patch should be applied as soon as possible.

Of the remaining security bulletins, the following additional major patches may affect desktops in your enterprise:

Review the remaining security bulletins and prioritize according to the resources on your network and their relative priority.

ABOUT THE AUTHOR
Eric Schultze is a principal product manager at Amazon Web Services. Prior to Amazon, Schultze worked at Microsoft, where he helped manage the security bulletin and patch-release process. Schultze likes to forget that he used to work as an internal auditor on Wall Street.
Dig Deeper on Patches, alerts and critical updates
PRO+
Content
Find more PRO+ content and other member only offers, here.