News
Stay informed about the latest enterprise technology news and product updates.
SearchWin2000.com Know-IT-all Chapter Quiz: Windows Server 2003 Pocket Administrator
What do you know about administering identity servers? Check your skills in this quiz and get a chance to win a copy of Windows Server 2003 Pocket Administrator, courtesy of McGraw-Hill/Osborne Media.
Looking for something else?

Download this free guide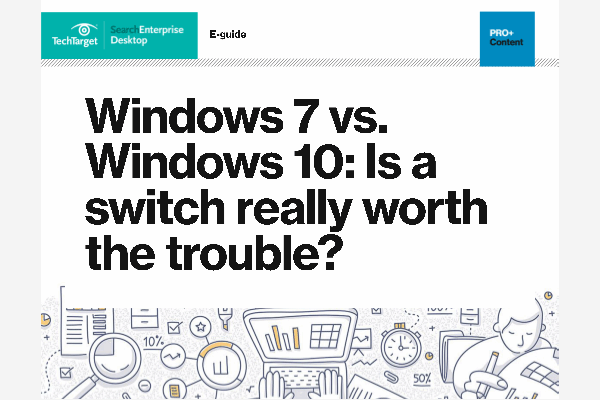 Download: You may be due for an upgrade to Windows 10, but watch out for common pitfalls
With Windows 10 launching you may feel the need to make the upgrade, but check out this guide first to see if a switch is really worth the trouble for your organization.

By submitting your personal information, you agree that TechTarget and its partners may contact you regarding relevant content, products and special offers.

You also agree that your personal information may be transferred and processed in the United States, and that you have read and agree to the Terms of Use and the Privacy Policy.

What do you know about administering identity servers? We challenge you to test your skills by taking our new quiz based on the book "Windows Server 2003 Pocket Administrator," by Nelson and Danielle Ruest, courtesy of McGraw-Hill/Osborne Media.

All answers to this quiz are found in the featured chapter download, but be warned -- this quiz is designed to be challenging! Good luck!

How to take the quiz:
- After reading the question, note the letter of your answer. Check your answers by clicking the link to the answer key at the end of the quiz.
- Send us an e-mail telling us how you did to participate in our book giveaway this week.
NOTE: The weekly prize drawing is random - your score will not affect your chances of winning.
- To read more about a topic, open the chapter and locate the indicated page after each answer.


Chapter Quiz

1. The command-line tool "csvde" is primarily used for...

a. Managing the AD database.
b. Modifying AD schemas and database structures.
c. Managing Group Policy Objects.
d. Performing massive user and computer account operations.

2. Where can you NOT obtain X.500 numbering?

a. The International Standards Organization (ISO)
b. United States Department of Agriculture (USDA)
c. American National Standards Institute (ANSI)
d. Microsoft

3. The default lifetime of tombstone data is...

a. 180 days
b. 90 days
c. 60 days
d. 30 days

4. Which administrative activity should be done daily, according to the author?

a. KCC Service Status Management
b. DNS Event Log Verification
c. Operations Master Role Transfer
d. PKI Service Verification

5. This is the command-line equivalent of the Active Directory Users and Computers console:

a. DsAD
b. RenDom
c. NtdsUtil
d. MoveTree

6. This statement about AD/AM is NOT true:

a. You can run several instances of AD/AM on a single machine.
b. AD/AM helps keep the NOS AD pristine.
c. AD/AM is superior to NOS AD for managing add-ons such as Microsoft Exchange.
d. AD/AM is not supported by Windows Server 2000.

7. Every computer has a GUID. Where can you find it?

a. In the BIOS.
b. In the user profiles display in control panel/system.
c. In the manufacturer's manual.
d. All the above.

8. What is the author's main reason for being wary of schema-modifying software?

a. Potential system access by unauthorized users.
b. Long-term impact on the NOS directory.
c. Registry corruption.
d. It's a trick question - the author says there is no reason for concern as long as the tools are made by a reputable company.

9. "KCC" stands for...

a. Knowledge Command Console
b. Knowledge Control Center
c. Knowledge Consistency Checker
d. Knowledge Control Console

10. A "realm" trust type specifically indicates this direction and nature...

a. One- or two-way transative or non-transative.
b. One-way transative or non-transative.
c. One- or two-way transative.
d. Two-way transative.


CLICK HERE FOR ANSWER KEY!



Dig Deeper on Endpoint security management tools
PRO+
Content
Find more PRO+ content and other member only offers, here.