JRB - Fotolia
What can we tell about Windows 9 from Windows 8.1?
Windows 9 is coming sooner than you think, but will it have the Windows 8.1 Start menu and improved management and security features? Our columnist weighs in on the future of Microsoft operating systems.
Looking for something else?
TECHNOLOGIES

PRODUCTS
As Windows 8 continues to lose market share, it seems that all eyes are on Windows 9. But what will the forthcoming operating system offer the enterprise that Windows 7 doesn't already? If the improvements in Windows 8.1 are any indication, I believe Windows 9 (a.k.a. "Windows Threshold") is going to be the next big thing from Microsoft.

Download this free guide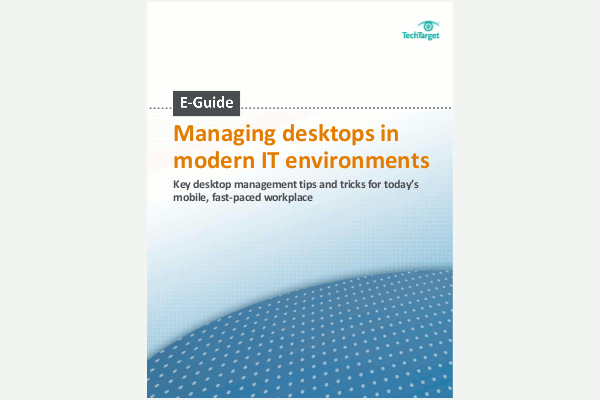 Download: Modern desktop environments require new management strategies and tools
Managing desktop environments in today's complex IT environments is becoming increasingly challenging as trends like mobility continue to infiltrate the workplace. Find out expert best practices for identifying and avoiding hidden costs, minimizing mobile security risks and satisfying the needs of both IT and end-users.
By submitting your personal information, you agree that TechTarget and its partners may contact you regarding relevant content, products and special offers.
You also agree that your personal information may be transferred and processed in the United States, and that you have read and agree to the Terms of Use and the Privacy Policy.

Windows 8.1 introduced Work Folders for cloud file syncing, Workplace Join for better control of bring your own device (BYOD), and some improvements in Windows Defender for better malware protection out of the box. I suspect we'll see some improvements in these areas in Windows 9, namely better centralized control via Active Directory and Group Policy Objects, as well as a continued push to the cloud because that's where the money is.
I suspect we'll see some improvements in these areas in Windows 9, namely better centralized control via Active Directory and GPOs and a continued push to the cloud because that's where the money is.
It appears that Microsoft is planning on moving back to more of a standard desktop like Windows 7. Word has it that the actual Start menu will return -- not just the Start button like in Windows 8.1. With this, the right side of the menu will have Modern UI-type tiles, and the left will have the more traditional shortcut links to recently used programs.
Not that it matters for the enterprise, but the newer Windows "apps" will likely run in a window along with traditional desktop applications -- similar to what Stardock's ModernMix does. The Windows Aero Glass look appears to be coming back as well.
Will Windows 9 continue Windows 8.1's refinements?
As a whole, Windows 8.1 was a welcome improvement over Windows 8. Microsoft focused on the user interface, security and enhanced enterprise functionality for a reason -- user feedback and market demand. Businesses are not eager to see big changes in the computing experience.
IT and security managers are, however, open to improvements in desktop management and security, which are the things that make their work easier rather than more difficult. That was the saving grace for Windows 8.1 and will help ensure that Windows 9 is discussed in IT circles under a more positive light.
Windows 8 may have over 12% of the market, but it's flipping and flopping just as much as its ancestors Windows ME and Windows Vista -- especially in the enterprise. I really like Windows 8 when it's properly tuned, but negative user perceptions will continue to hold it back.
Although speculation has swarmed around the rumored release of Windows 8.1 Update 2, Microsoft revealed in a recent blog post that the company has no plans to deliver on it any time soon. Still, the big changes will likely come in spring 2015 in the form of Windows 9. Be prepared -- I suspect it'll be what Windows 8.1 should've been: ready for the enterprise right out of the box, with no tweaking required.
Dig Deeper on Microsoft Windows 8 operating system
PRO+
Content
Find more PRO+ content and other member only offers, here.