A flaw fatal to Windows NT 4.0
An unpatchable flaw could leave Windows NT 4.0 open to a DoS attack.
Looking for something else?
On March 26, Microsoft released security bulletin MS03-010. This bulletin discusses a flaw in the RPC endpoint mapper that could lead to denial-of-service attacks. The flaw is found in Windows XP, Windows 2000 and Windows NT 4.0. Unfortunately, Microsoft is only able to provide a patch for Windows XP and Windows 2000. Windows NT 4.0 cannot be patched to address this issue.

Download this free guide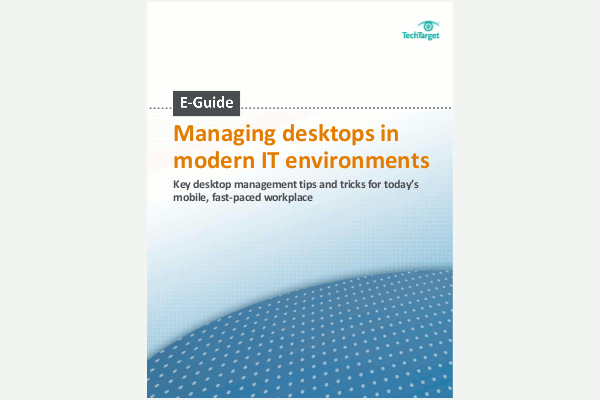 Download: Modern desktop environments require new management strategies and tools
Managing desktop environments in today's complex IT environments is becoming increasingly challenging as trends like mobility continue to infiltrate the workplace. Find out expert best practices for identifying and avoiding hidden costs, minimizing mobile security risks and satisfying the needs of both IT and end-users.
By submitting your personal information, you agree that TechTarget and its partners may contact you regarding relevant content, products and special offers.
You also agree that your personal information may be transferred and processed in the United States, and that you have read and agree to the Terms of Use and the Privacy Policy.

Microsoft states that the architectural limitations of Windows NT 4.0 prevent the necessary changes to the TCP/IP stack, the RPC system and various networking components. The only way to incorporate the patch into Windows NT 4.0 would be to significantly re-engineer the OS. This is infeasible, especially on a product that is already superseded by newer OSes. Thus, those using Windows NT 4.0 are stuck with two work-around countermeasures to address this issue.
The first work-around is to place the Windows NT 4.0 system behind a firewall that blocks all traffic on port 135. This solution only prevents attacks that originate on the opposite side of the firewall. This solution has no effect on attacks originating within the trusted network.
The second work-around is to replace Windows NT 4.0 with another OS that can be patched or does not have the vulnerability. This would include upgrading to Windows 2000 or Windows 2003. Obviously, if your applications or network solutions rely specifically upon Windows NT 4.0, this is not a viable solution.
For more information on this issue and to gain access to the patches for Windows XP and Windows 2000, please visit: http://www.microsoft.com/technet/treeview/default.asp?url=/technet/security/bulletin/ms03-010.asp
About the author
James Michael Stewart is a partner and researcher for ITinfopros, a technology-focused writing and training organization.
---
For more information, visit these resources:
Dig Deeper on Network intrusion detection and prevention and malware removal
PRO+
Content
Find more PRO+ content and other member only offers, here.