Evaluate
Weigh the pros and cons of technologies, products and projects you are considering.
Automate administrative tasks with command line tools
Automate virtually any administrative task with the command line tools available in NT/2000. User Greg Parks shows you how.
Looking for something else?
Becoming familiar with the command line tools available in Windows NT/2000 resource kits can greatly reduce administration tasks. The use of tools such as "CACLS," "RMTSHARE" and "CUSRMGR" can be incorporated into batch files or scripts to automate almost any admin task.

Download this free guide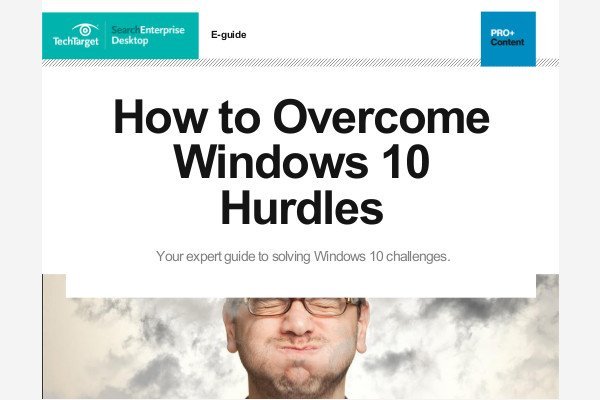 Download Our 25-Page Guide: How to Overcome Windows 10 Hurdles
After upgrading to Windows 10, many IT departments run into challenges with the new OS. Access our comprehensive guide on how to solve the most common Windows 10 problems.
By submitting your personal information, you agree that TechTarget and its partners may contact you regarding relevant content, products and special offers.
You also agree that your personal information may be transferred and processed in the United States, and that you have read and agree to the Terms of Use and the Privacy Policy.
A complete list of syntax is available by typing "/?" after the command. An example of the syntax to add a user to a global group would be: CUSRMGR -M PDCNAME -U Username -AGG GobalGroupName.
A simple batch file can be written and put in your path, asking just for username and group name, saving several clicks through the GUI. For example:
@ECHO OFF
IF "%1" == "" GOTO PARMS
IF "%2" == "" GOTO PARMS
CUSRMGR -u %1 -m PDCNAME -agg "DOMAIN USERS"
:PARMS
ECHO USAGE: BATCHNAME [USERNAME] [GROUPNAME]
GOTO END
:END
This simple batch file allows me to type from the command line, "Batchname username groupname" to add a user to a group without having to access User Manager. FYI: Command line administration reduces ACL corruption if you are running W2k for administration of a NT4 environment.

Dig Deeper on Windows legacy operating systems
PRO+
Content
Find more PRO+ content and other member only offers, here.