Convert from FAT to NTFS
Use the convert program in Win2k/XP to convert FAT to NTFS without having to wip out the whole FAT partition.
Looking for something else?
This tip was submitted to the SearchWin2000.com Tip Exchange by member Rick Fiore. Let other users know how useful it is by rating the tip below.

Download this free guide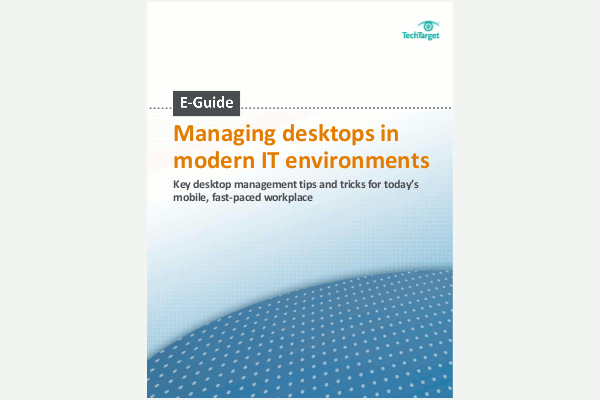 Download: Modern desktop environments require new management strategies and tools
Managing desktop environments in today's complex IT environments is becoming increasingly challenging as trends like mobility continue to infiltrate the workplace. Find out expert best practices for identifying and avoiding hidden costs, minimizing mobile security risks and satisfying the needs of both IT and end-users.
By submitting your personal information, you agree that TechTarget and its partners may contact you regarding relevant content, products and special offers.
You also agree that your personal information may be transferred and processed in the United States, and that you have read and agree to the Terms of Use and the Privacy Policy.

---
When using Windows 2000 or XP, you do not have to wipe out a FAT partition to convert it to NTFS. They both include a program called convert in the windowssystem32 directory.

C:WINDOWSsystem32>convert /?
Converts FAT volumes to NTFS.

CONVERT volume /FS:NTFS [/V] [/CvtArea:filename] [/NoSecurity] [/X]

  volume      Specifies the drive letter (followed by a colon),
              mount point, or volume name.
  /FS:NTFS    Specifies that the volume is to be converted to NTFS.
  /V          Specifies that Convert should be run in verbose mode.
  /CvtArea:filename
              Specifies a contiguous file in the root directory to be
              the place holder for NTFS system files.
  /NoSecurity Specifies the converted files and directories security
              settings to be accessible by everyone.
  /X          Forces the volume to dismount first if necessary.
              All opened handles to the volume would then be invalid.

By doing a "c:windowssystem32convert c: //fs:ntfs", the system will convert c: to a NTFS on the next reboot. The option to do this also shows up when you upgrade Windows 2000 or XP.

Dig Deeper on Endpoint security management tools
PRO+
Content
Find more PRO+ content and other member only offers, here.