Windows XP Professional's new shell commands
Summary of the new shell commands available in XP.
Looking for something else?
Windows XP Professional's new shell commands
Barrie Sosinsky
Windows XP Professional comes with many new command-line tools that will give you instant access to system utilities. When the command supports the GUI, you can use the Run command from the Start command to launch that utility using the command. When the command requires a DOS Prompt compatibility box, then you should open a DOS window by entering CMD into the Run dialog box, and pressing the enter key. Check a command's syntax by entering the command line: <commandname> /? and pressing the Enter key.

Download this free guide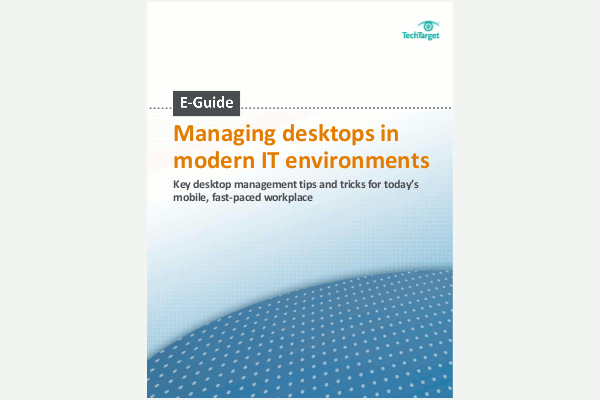 Download: Expert guide to managing desktops in modern IT environments
In this complimentary guide, explore key insights on improving desktop management, identifying and avoiding hidden costs, and minimizing mobile security risks.
By submitting your email address, you agree to receive emails regarding relevant topic offers from TechTarget and its partners. You can withdraw your consent at any time. Contact TechTarget at 275 Grove Street, Newton, MA.
You also agree that your personal information may be transferred and processed in the United States, and that you have read and agree to the Terms of Use and the Privacy Policy.

Among the new commands in XP are the following: bootcfg, driverquery, eventcreate, eventtriggers, fsutil, getmac, helpctr, ipseccmd, logman, openfiles, pagefileconfig, perfmon, prncnfg, prndrvr, prnjobs, prnmngr, prnport, prngctl, relog, sc, schtasks, systeminfo, taskkill, tasklist, traceprt, typeperf, and WMIC. These commands are explained in more detail in the Help topic "New command-line commands."
As an administrator it is well worth learning these commands, as they can save you lots of time.
---
Barrie Sosinsky (barries@killerapps.com)is president of consulting company Sosinsky and Associates (Medfield MA). He has written extensively on a variety of computer topics. His company specializes in custom software (database and Web related), training and technical documentation.
Dig Deeper on Microsoft Windows XP Pro
PRO+
Content
Find more PRO+ content and other member only offers, here.