Essential Guide
Windows 7 guide: Before, during and after migration
A comprehensive collection of articles, videos and more, hand-picked by our editors
A guide to Windows 7 migration tools
Upgrading to Windows 7 from Windows XP is no easy task, but several tools from Microsoft and third-party vendors can simplify the process.
FROM THE ESSENTIAL GUIDE:
This is the first part in a series on migration tools for Windows 7.
Many businesses that skipped upgrading to Microsoft Vista are considering moving to Windows 7. While migrating from Windows XP to Windows 7 is no easy task, there are several tools -- from Microsoft as well as third-party vendors -- that can help.

Download this free guide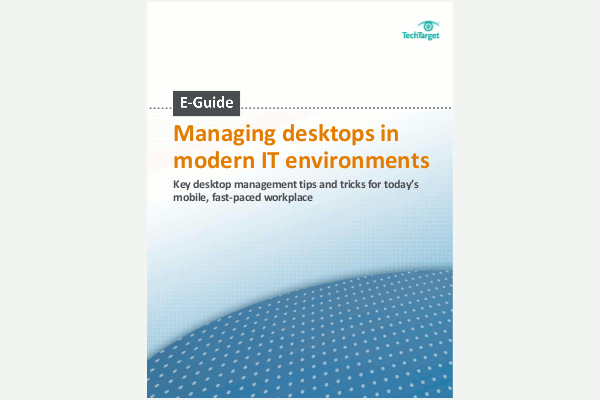 Download: Modern desktop environments require new management strategies and tools
Managing desktop environments in today's complex IT environments is becoming increasingly challenging as trends like mobility continue to infiltrate the workplace. Find out expert best practices for identifying and avoiding hidden costs, minimizing mobile security risks and satisfying the needs of both IT and end-users.
By submitting your personal information, you agree that TechTarget and its partners may contact you regarding relevant content, products and special offers.
You also agree that your personal information may be transferred and processed in the United States, and that you have read and agree to the Terms of Use and the Privacy Policy.

Some of these migration tools are summarized in table below:
* Quantity discounts available
How the migration tools work
Vista users that buy a copy of Windows 7 can do an in-place upgrade, preserving their applications and user settings. This is not an option when migrating from XP, but all six tools described above get around this limitation. They each work in the following way:
The tools start out with a fresh copy of Windows 7 as a master image.
The entire machine is then reimaged with Windows 7 -- without requiring you to wait and watch while the bits are put on the machine from a standard install DVD.
Next, the tool stirs in the applications you want deployed across the enterprise. This allows you to clean house and create a more managed environment.
Each tool can deal with the variety of hardware configurations that you placed the image on.
Finally, send the image to your desktops and have them reboot with the new copy of Windows 7.
Migration tools can be broken up into two groups: Tools that are used on single PCs one at a time, and automated deployment tools used on a massive scale.
But how do you know which type of tool to use in your enterprise?
If you have less than 10 desktops, you're probably better off using the single PC tools. This is because the mass-migration products require a learning curve and experimentation, especially if you have a diverse hardware base of PCs to upgrade. (And who doesn't have a diverse hardware base these days?)
From the list above, PCmover and Zinstall are single PC tools. These two products shine if you don't have a lot of PCs to upgrade and you want to preserve as much of the individual XP settings and applications as possible. The remaining four tools are all automated deployment tools.
In addition, there are two tools that can help you assess if your PC inventory is ready to migrate to Windows 7: The free Systems Management utility from Viewfinity and Microsoft's own Upgrade Advisor.
Learn more about these migration tools in part two of this series »
ABOUT THE AUTHOR:
David Strom is a freelance writer and professional speaker based in St. Louis. former editor in chief of TomsHardware.com, Network Computing magazine and DigitalLanding.com. Read more from Strom at Strominator.com.
PRO+
Content
Find more PRO+ content and other member only offers, here.