Manage
Learn to apply best practices and optimize your operations.
Phishing filter: Step 2
Trying to find out what's so special about IE7? Read up on the new security features present in IE7, and learn which of these features are user configurable.
The phishing filter feature is receiving a lot of press. When you visit a Web site with IE7, the browser compares...
Continue Reading This Article
Enjoy this article as well as all of our content, including E-Guides, news, tips and more.
By submitting your personal information, you agree that TechTarget and its partners may contact you regarding relevant content, products and special offers.
You also agree that your personal information may be transferred and processed in the United States, and that you have read and agree to the Terms of Use and the Privacy Policy.
the site's URL against a list of Web sites that are known to be legitimate. If the Web site does not appear to be legitimate, then the URL is compared against a list of known phishing sites. If the URL matches a known phishing site, then the filter displays a warning message telling the user that the site is a reported phishing Web site and it recommends closing the page.
If a page does not appear on the list of sites known to be legitimate, but it does not appear on the list of phishing sites either, then the filter will use heuristics to determine whether or not the site has characteristics common to phishing sites. If it does, then the filter will display a warning message indicating that the site could potentially be a phishing site; it will also give you a chance to report the site to Microsoft for inclusion in its list of phishing sites.
The first time you use Internet Explorer 7, it asks if you want to use the phishing filter. You can also manually enable or disable the filter through the Advanced tab of the Internet Options properties sheet, as shown in Figure B.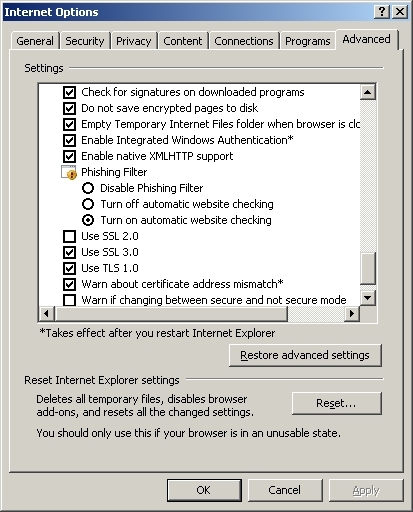 Figure B: Use the Advanced tab of the Internet Options properties sheet to manually enable or disable the phishing filter.

Configuring IE7 security on Vista

Home: Introduction
Step 1: General security configuration
Step 2: Phishing filter
Step 3: Protection against international domain names, URL handling
Step 4: ActiveX opt-ins, information bar and cross-domain protection
Step 5: Windows Vista and IE7


ABOUT THE AUTHOR:
Brien M. Posey, MCSE, MVP
Brien M. Posey, MCSE, is a Microsoft Most Valuable Professional for his work with Windows 2000 Server and IIS. He has served as CIO for a nationwide chain of hospitals and was once in charge of IT security for Fort Knox. As a freelance technical writer, he has written for Microsoft, TechTarget, CNET, ZDNet, MSD2D, Relevant Technologies and other technology companies. You can visit his personal Web site at www.brienposey.com. Copyright 2006 TechTarget
Dig Deeper on Microsoft Internet Explorer (IE)
PRO+
Content
Find more PRO+ content and other member only offers, here.