Q
How can I clean up the notifications area on the Windows 10 taskbar?
If your Windows 10 taskbar is overcrowded with notifications, you can disable them on an app-by-app basis.
It's easy for the Windows 10 taskbar to become a convoluted mess of various symbols, alerts and notifications. Although many of these items do have a purpose, you can reduce the volume of help desk calls by disabling the various Windows notifications. After all, some users will inevitably call the help desk anytime they see something they don't immediately recognize, even if the item is purely informational.

Download this free guide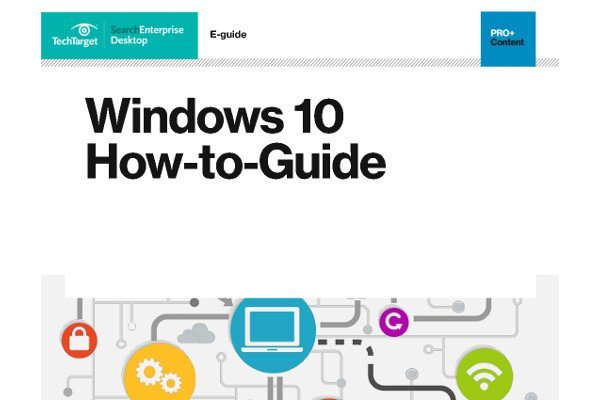 PDF: Windows 10 How-to-Guide
Simply upgrading to Windows 10 is not enough to ensure that this investment is worth your time. You need to know how to keep performance levels high and fix common problems as they arise. Download this full Windows 10 How-to-Guide now for more related content.
By submitting your personal information, you agree that TechTarget and its partners may contact you regarding relevant content, products and special offers.
You also agree that your personal information may be transferred and processed in the United States, and that you have read and agree to the Terms of Use and the Privacy Policy.
How you clean up the taskbar and the notification area varies depending on which items you want to remove. You can remove notification icons and leave the other icons in place, or remove everything from the system tray, including the clock.
To make changes, right-click the left-most symbol -- which resembles an up arrow -- and choose the Properties command from the shortcut menu. This will open the Taskbar and Start Menu Properties sheet. Now click on the Customize button located in the Notification Area section.
The resulting screen contains lots of on/off sliders you can use to enable or disable various system settings and notifications. It's easy to disable notifications while presenting, for example, or turn off the option to show tips about Windows.
In this screen you can also enable or disable notifications on a per-app basis. For instance, you might turn off notifications for Mail, News or Outlook.
The Notifications & Actions screen also contains a link you can use to select which icons appear on the taskbar. You can use this option to hide anything that is likely to confuse users or result in help desk calls. Similarly, there is a link you can use to turn system icons on or off. You can also disable the Action Center, the network icon, the clock and more.
While you may want to jump on the data management and protection train, consider first how combining the two in one product will affect your systems ... Continue Reading
Hackers can gain remote access to users' desktops through RDP hijacking. As a result, IT pros must know what they can do to prevent such an attack. Continue Reading
When IT pros are seeking an alternative to Outlook, they should consider the features their users need the most and select an email client that best ... Continue Reading
Have a question for an expert?
Please add a title for your question
Get answers from a TechTarget expert on whatever's puzzling you.