Q
How do I change data's default save location in Windows 10?
If you don't want to save data in Windows' default locations, there are two ways you can choose new defaults. One is for non-domain joined machines, and the other uses AD.
Not every user or IT administrator wants to store data in Windows 10's default save locations, but the way to redirect the default data repository depends on whether the device is domain joined or not.

Download this free guide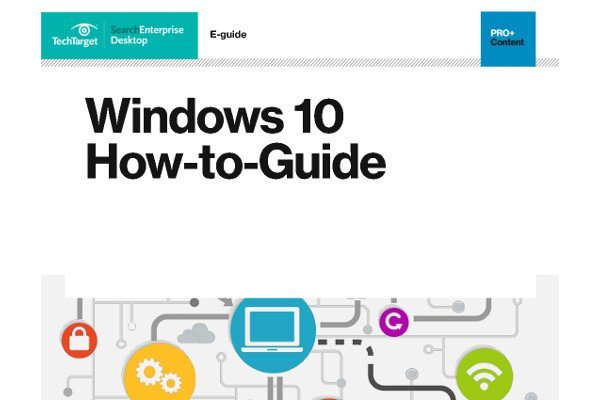 PDF: Windows 10 How-to-Guide
Simply upgrading to Windows 10 is not enough to ensure that this investment is worth your time. You need to know how to keep performance levels high and fix common problems as they arise. Download this full Windows 10 How-to-Guide now for more related content.
By submitting your personal information, you agree that TechTarget and its partners may contact you regarding relevant content, products and special offers.
You also agree that your personal information may be transferred and processed in the United States, and that you have read and agree to the Terms of Use and the Privacy Policy.
The Windows operating system has long utilized libraries and user profiles to save data. When a user logs on to a Windows 10 desktop, the operating system checks to see there's a profile for him. If the user does not have a profile, the OS creates one. By default, user-specific application settings are stored in the user's profile. His data is also stored in libraries in the profile. The libraries have changed considerably over the years, but some of the better known ones include Documents, Music, Pictures and Videos.
For non-domain joined devices, the best option to change the default save location is to move the libraries. To do so, open File Explorer, right click on the library that you want to move and select the Properties command from the shortcut menu. When the properties sheet for the library is displayed, select the Location tab. This tab shows the library's current location. To move the library, simply type a new location and click the Move button.
It is worth noting that although you can technically store almost any type of data in any of the libraries, they are optimized for specific data types. The Pictures library for instance, is optimized for storing photographs. The optimization affects the fields that are displayed for each file that is listed within the library -- in Detail view. The Pictures library includes a Tags column, and the Video library contains a Length column. When you move a document library, it is possible for it to lose its optimization. You can reestablish this optimization on the Customize tab of the library's properties sheet.
In domain environments, the easiest way to change the default save location is through roaming profiles and folder redirection. These Active Directory-level techniques redirect the user's profile and libraries to a centralized network location. This allows a user's library to follow the user from PC to PC, and it makes it easier to back up the profile and library contents.
While you may want to jump on the data management and protection train, consider first how combining the two in one product will affect your systems ... Continue Reading
Hackers can gain remote access to users' desktops through RDP hijacking. As a result, IT pros must know what they can do to prevent such an attack. Continue Reading
When IT pros are seeking an alternative to Outlook, they should consider the features their users need the most and select an email client that best ... Continue Reading
Have a question for an expert?
Please add a title for your question
Get answers from a TechTarget expert on whatever's puzzling you.