Fotolia
Q
What are the concerns around the Windows 7 end of life?
As the Windows 7 end of life arrives, IT admins must find extended support for the OS. Microsoft provides some help, but it won't always be free.
The Windows 7 end of life is nearly here, and desktop administrators must decide whether it's worth sticking with the stable version or migrating. Microsoft offers two kinds of support for Windows operating systems: mainstream and extended.

Download this free guide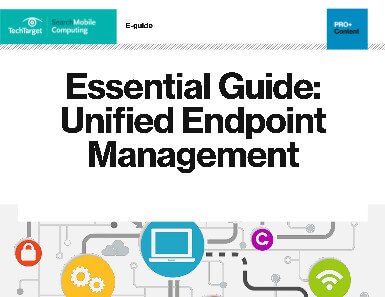 Free PDF: Your Essential Guide to Unified Endpoint Management
Download this 44-page guide to learn everything you need to know about UEM.
Mainstream support for Windows 7 includes automatic updates, patches, service packs and performance improvements, along with free phone and online assistance through Microsoft Support and the Microsoft Knowledge Base.
Mainstream support is typically available for five years from the date the OS was released to the public or for two years after the next operating system or the "successor" -- which is Windows 8 in this case -- is released, whichever is longer.
On Jan. 13, 2015, mainstream support ends for Windows 7, at which time service packs and new features are no longer released, and phone and some forms of online support are no longer free.
Extended support for Windows 7 includes security updates and self-help information available through the Microsoft Support site and the Microsoft Knowledge Base. Special editions of Windows 7 -- typically for business and developers -- get 10 years of online self-help support.
Paid support plans, such as Premier and Essential Support, are also available. Extended support is available for five years from the date the OS was released to the public, or for two years after the second successor operating system is available, whichever is longer.
Information about mainstream and extended support is available in the Windows lifecycle fact sheet and in the Microsoft Support Lifecycle Policy FAQ.
To prepare for the end of mainstream support, users should make sure they have Windows 7 Service Pack 1 (SP1) installed and all security updates released by Microsoft after SP1. To verify, click the Start button, right-click Computer, and select Properties. The "View basic information about your computer" section at the top lists the Windows edition and the latest service pack that's installed.
Windows 7 SP1 is available through Windows Update (go to the Action Center or Control Panel) or can be downloaded from the Microsoft Download Center and installed manually.
Dig Deeper on Microsoft Windows 7 operating system
Microsoft Edge, Windows 10's default browser, includes a file-sharing tool called Near Share, which is helpful, if not truly groundbreaking. Continue Reading
The Windows ADK can help ensure Windows 10 compatibility for apps, software and hardware. There are six key steps to the installation process. Continue Reading
A network engineer job description will vary. Primarily, it depends on whether the job focuses on engineering a new network or on running a network ... Continue Reading
Have a question for an expert?
Please add a title for your question
Get answers from a TechTarget expert on whatever's puzzling you.