Q
What will happen to my Windows-based mobile device now that Windows 10 is out?
Whether you can get Windows 10 on your mobile device depends on what type of Windows mobile device you have, but Surface tablets get the upgrade the same way desktops do.
The effect Windows 10 has on your Windows-based mobile device -- whether it's a Windows Phone, Surface or Surface RT tablet -- varies based on device type.

Download this free guide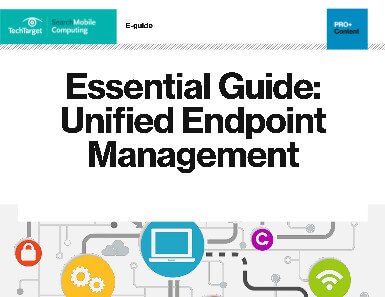 Free PDF: Your Essential Guide to Unified Endpoint Management
Download this 44-page guide to learn everything you need to know about UEM.
With Surface RT tablets, nothing will happen: Microsoft discontinued the Surface RT, so there is not a Windows 10 upgrade for those devices, and they will continue to function the way they always have.
In the months immediately following the release of Windows 10 for desktop computers, we probably won't see anything happen to Windows Phone devices either. Microsoft has said that devices running Windows Phone 8.1 will be eligible for an upgrade to Windows 10 Mobile. Devices running Windows Phone 7 are not eligible for the upgrade to Windows 10. Windows Phone 8 users cannot upgrade to Windows 10 Mobile directly, but they can upgrade to the Windows Phone 8.1 OS and then to Windows 10 Mobile.
Another reason there won't be much change around Windows Phone devices right away is that mobile providers are likely to wait a while before they allow users to install Windows 10 Mobile on their devices. When Microsoft released the Windows Phone 8.1 OS, it took many months before some mobile providers made the update available to customers. Windows 10 Mobile will surely be available to mobile users, but it may take some time.
Users can upgrade their Microsoft Surface and Surface Pro devices to Windows 10 the same way they'd upgrade a Windows 8.1 desktop or laptop. That is, all available updates must be installed to the device, one of which is the Get Windows 10 app. It lets users reserve a copy of Windows 10 and coordinate the upgrade process.
While you may want to jump on the data management and protection train, consider first how combining the two in one product will affect your systems ... Continue Reading
Hackers can gain remote access to users' desktops through RDP hijacking. As a result, IT pros must know what they can do to prevent such an attack. Continue Reading
When IT pros are seeking an alternative to Outlook, they should consider the features their users need the most and select an email client that best ... Continue Reading
Have a question for an expert?
Please add a title for your question
Get answers from a TechTarget expert on whatever's puzzling you.