News
Stay informed about the latest enterprise technology news and product updates.
A Picture Tells an Interesting Mobile IPv6 Story
In my last blog, "The IPv6 Adventure Gets Underway," I posted some information about getting my network boundary set up to handle IPv6 traffic. Thanks to some creative tunneling to IPv6-savvy ISP Hurricane Electric, and the acquisition of a Fortinet Fortigate 80C firewall device, my home network is now completely IPv6 capable and enabled.
After Monday's excellent set-up and configuration examples, my partner in crime (and for the forthcoming 4th edition of Guide to TCP/IP) Jeff Carrell fired up a passel (5 to be more precise) of Wi-Fi capable mobile devices to see whether or not they too could use IPv6 on my network. As the following image attests, all devices could access and use IPv6 for their mobile communications, at least to access an IPv6-only Web page.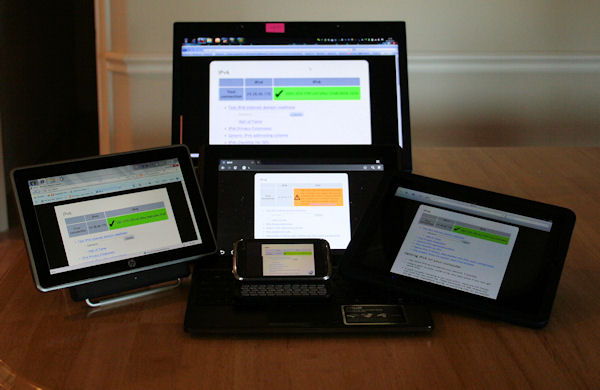 What you see in this picture is (clockwise from far left):
HP Slate running Windows 7 Professional, showing a complete passing score from the online IPv6 test
HP Mobile Workstation notebook PC also running Windows 7 Professional with the same passing display
Apple iPad running IOS 4.3.2 ditto
(Background) Asus TransFormer running Android 3.1 showing IPv6 compliance with a warning that the address in use contains the unit's actual MAC address (called an EUI-64 IPv6 address, this poses the security risk that attackers can use that information to perform system footprinting). But it's still running IPv6 and able to access IPv6 resources online.
HTC Tilt 2 running Windows 6 Mobile also gets the green light from a passing IPv6 score
What this picture tells us is that most of the major mobile platforms can use and understand IPv6. Of course, this really won't matter much until the ISPs catch up and IPv6 access becomes broadly and generally available. But it is working, and it is coming, so it's probably time to start thinking about IPv6 network design, security, and policy.