Manage
Learn to apply best practices and optimize your operations.
Admin Tools: Winaero Tweaker
Anybody who follows this blog knows I turn regularly to Sergey Tkachenko's Winaero.com site for news and the occasional admin tool. I've been aware of his free (donationware, actually) Winaero Tweaker for some time, but never dug into it before. After seeing it come in for "honorable mention" repeatedly on TenForums.com lately, I decided to check it out. So far, I've found it as good at managing Windows settings and appearance as anything I've ever worked with. Its "Behavior" controls provide a good illustration.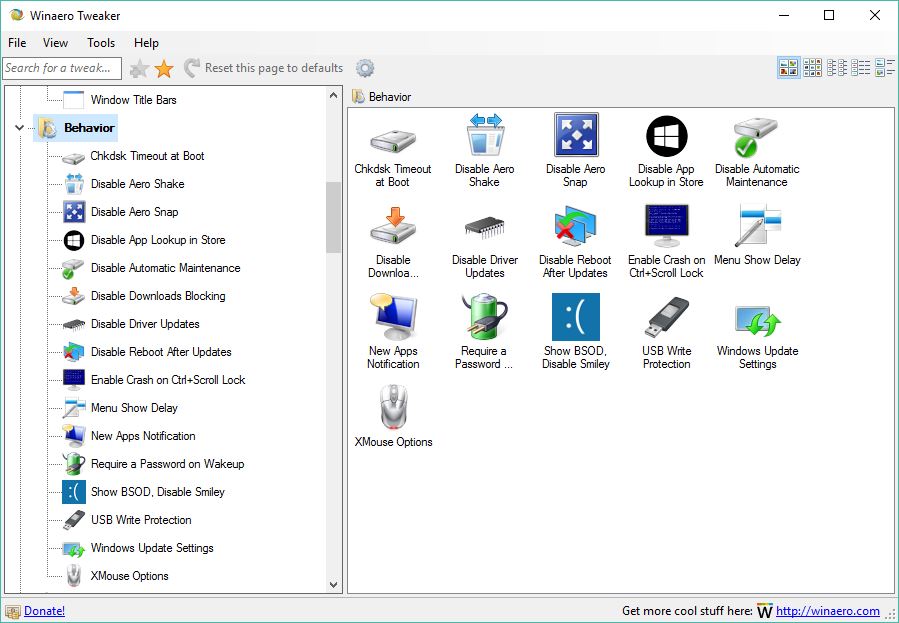 Lots of nice tweaks here, for sure.
[Click on image for full-size view.]
Winaero Tweaker: Behavior Tweaks
These various items testify about what Winaero Tweaker is and can do. Its various Disable settings are particularly useful, and include:
Automatic Maintenance (turns off the automatic maintenance task)
Downloads Blocking (turns off blocking of file downloads in IE)
Driver Updates (turns off driver downloads in WU)
Reboot After Updates (turns off automatic reboot after updates, and wake to install updates)
These items address common complaints about default Windows 10 stuff, and make it easy to adjust the OS to less intrusive or disruptive behaviors. I also find the "Show BSOD, Disable Smiley," USB Write Protection, and Windows Update Settings items helpful, too.
Winaero Tweaker also offers interesting boot and logon controls. These include easy access to boot options, lock screen behaviors, and login screen and behavior controls. They turn laborious Registry tweaks into one- or multi-click controls. You'll also find nice network and user accounts controls as well, and various goodies here and there. I especially like the "Reset Icon Cache" item in the Tools section. It's handy for fixing occasional icon cache corruption issues. In fact, the more you look around inside Winaero Tweaker, the more you'll find to like about it. Highly recommended!