Problem solve
Get help with specific problems with your technologies, process and projects.
Anniversary Update Post-Install Cleanup
Yesterday, on August 2, MS unleashed the Anniversary Update to Windows 10 Current Branch users. Because Windows Update is staggering update availability, various other means to grab an ISO also appeared. These include: MSDN (subscription required), and the Media Creation tool. Clicking "Learn More" on the Settings –> Update & Security –> Update Status page also helps. It points to a Windows 10 Upgrade advisor and can also fire off the upgrade process. However, Tech Bench, is currently not available. Having upgraded 5 machines from build 1511 to 1607 yesterday, I can report that some anniversary update post-install cleanup is required. Finally, here's an interesting screen cap of a self-congratulatory notification from MS received yesterday (twice, in fact):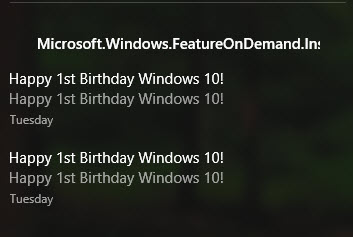 MS sent users this birthday greeting for Win10's "bonne anniversaire."
What Kinds of Anniversary Update Post-Install Cleanup?
First off, there's the usual post-install stuff: modern Windows takes the previous install and moves it into the Windows.old folder, but also keeps the installer file around as well. These usually clean up nicely using Disk Cleanup (aka cleanmgr.exe), or with CCleaner. It's also a good idea to use a file like DriverStore Explorer (aka rapr.exe) to check on Windows drivers, because some installs deposit duplicate drivers in profusion. For example, my son's Dell XPS One 2720 had 81 copies of the Realtek HD Audio driver in the store, of which only 1 was needed.
For this upgrade, Windows.old did not disappear after those usual clean up maneuvers. I found some persistent files related to audio, display, and various Windows 10 apps on all 5 of my upgraded systems. That said, each system had a slightly different collection of persistent stuff, all in a size range around 4 MB. The easiest way to get rid of them turned out to be booting the systems from a bootable UFD. I used Command Prompt in the Computer Repair – Troubleshooting option to root them out. This required using the delete (del) command on actual files, and the remove directory (rmdir) command on directories. This took about 20 minutes per PC to handle, including booting into UEFI, selecting an alternate boot source, and command line activity.
Issues Unrelated to Anniversary Update Post-Install Cleanup
A few other snags came up in applying the Anniversary Update on the 5 target PCs. Three of them went without a single hitch, but I encountered issues on two machines. I built my UFD using Rufus with an image from MSDN. It worked flawlessly on my Lenovo X220 Tablet, but hung at 99% on processing updates on my Lenovo T420. I purchased both machines at the same time so they have the same CPU, equal RAM, and identical Plextor 256 GB mSATA SSDs. After forcibly shutting down and rebooting the T420, it moved into the next install phase and completed successfully. It was disconcerting that the progress on that next phase stayed at 0% complete until it finished and rebooted. But it jumped into the "Hi! We're setting things up…" phase and finished as it should have.
I tried out the Upgrade Advisor method through Windows Update for my wife's mini-ITX PC, but it only reached 94% complete after 2-plus hours. I canceled that upgrade, and used the UFD method instead. It completed in about 40 minutes, again without a hitch.
I also had to reinstall my Windows 7 Games for Windows 10 on my production PC after the upgrade completed. For some reason, this upgrade broke the earlier version of that software. I'm also noticing some file indexing and lookup issues, but initial problems with looking up contact info in the Outlook address book have already gone away. I expect this will subside once general indexing completes.