News
Stay informed about the latest enterprise technology news and product updates.
Another Use for WinPE: WinRE UFD To the Rescue
If you've ever messed with the Windows Vista Recovery Environment you know it's helpful, but it can take quite a while for it to appear on-screen on a machine in need of repair or recovery. In fact, the functionality behind this display is a WinPE-based facility that's bundled with the Windows Install Media, and invoked from a Windows Image file (.wim) when you select the "Repair an existing Vista system" from the install menu.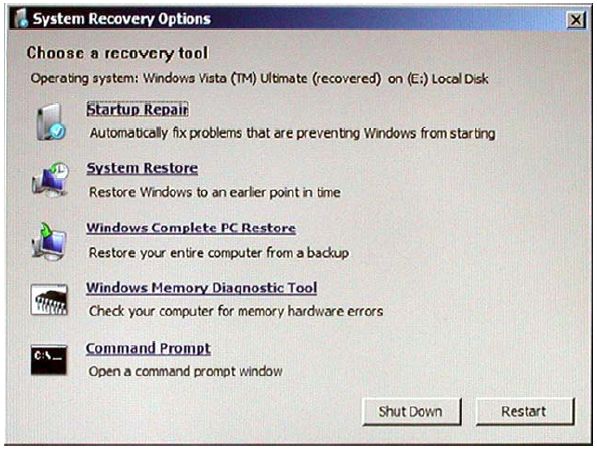 This low-res screen cap of the Recovery Environment describes your Vista Repair options:
here, you want to pick Windows Complete PC Restore.
On most of my Vista machines, it takes in excess of three minutes to get from the Vista install DVD to the System Recovery Options menu shown in the preceding screen capture, and it can sometimes take more than 10 minutes to pop up (as when finding and fixing boot-up issues, as it sometimes must). If you follow the instructions I provide in a recent story for Tom's Guide "How to Make and Use a Bootable WinPE Drive" you will learn how to use the install media and the Windows Automated Instllation Kit (WAIK) to create a bootable UFD with the Vista Recovery Environment at your disposal. Unlike its DVD-based counterpart, however, this little gem usually presents itself on-screen in under two minutes, which lets you get to work far faster (on the notebook in question, the screen popped up in 1:07).
I was forcibly reminded of this yesterday, when I installed a new driver on one of my test notebook PCs, only to discover that the device went missing upon reboot, and that System Restore was also unable to roll back to the preceding restore point (I later learned this comes from a side effect of Norton security products, as documented in this Symantec page on the "Restoration Incomplete" error also produced during this process). What to do when restore points won't work (and you don't yet know how to fix that problem): use the Recovery Environment and a recent backup to restore your system to a pristine state. Luckily for me, I had just backed up my system the night before so I was back up and running in under 15 minutes, restore and all. This time, I skipped the IDT HD Audio driver update that started all my problems, and then went off to research exactly what happened, and why. In a roundabout way, all this led to today's blog post.
Nevertheless, I was glad to have had this handy little tool at my disposal, which I've already used to repair Vista on a couple of machines since building the WinRE UFD in late January. You might want to add one of these to your toolkit. Any old UFD larger than 256MB will do: my WinRE UFD weighs in at 330 MB in all. Thus, a freebie or cheapie 1 GB UFD will work just fine for this purpose.