News
Stay informed about the latest enterprise technology news and product updates.
Build 15031 Brings Dynamic Lock
Cellphones are such a vital ingredient of modern life that we bring them with us everywhere we go. MS exploits this truism in the latest build of Windows 10, 15031. There's a new facility in the Sign-In Options called "Dynamic lock" that detect when the phone is out of Bluetooth range and locks a paired PC in response. Here's a screen cap showing this turned on for my Dell Venue Pro 11 and my iPhone. It shows just how Build 15031 brings dynamic lock to Windows 10:

Download this free guide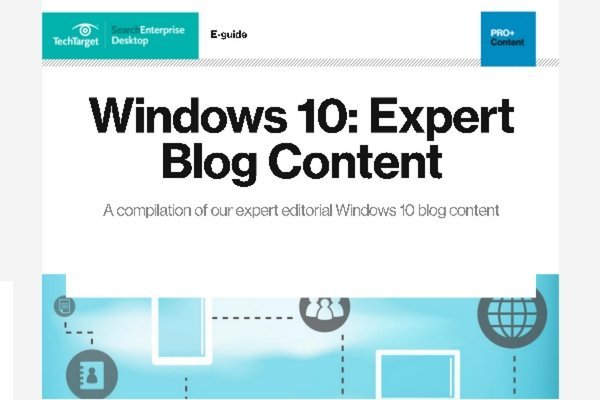 Download: Our 23-Page Editorial Collection of Windows 10 Blog Content
Inside this exclusive download offer, you'll find a compilation of all of our top followed Windows 10 blog content written by our expert editors, who combined have over 30 years of experience in the IT industry. We've compiled a variety of these expert blogs for you - offering best practices and breakdowns designed to help IT professionals tackle the top Windows 10 tips, tricks, concerns and more.
By submitting your personal information, you agree that TechTarget and its partners may contact you regarding relevant content, products and special offers.
You also agree that your personal information may be transferred and processed in the United States, and that you have read and agree to the Terms of Use and the Privacy Policy.
As is so often the case with new software from Microsoft, this comes with a catch. The Bluetooth control panel widget is MIA in Build 15031 (you won't find it, period). Thus, you must go through the "Devices and Printers" interface to pair your phone with your PC, then visit the Settings app under Accounts, Sign-in options. Once the device is paired, you can check the box next to "Allow Windows to detect…" This instructs the PC to switch to the lock screen, and blocks casual access to those lacking credentials.
I expect this capability will extend into production Windows when the Creator's Update goes live in April. It will be a handy extension to desktop security for Windows, but only as long as you remember to take your (paired) cellphone with you when you walk away from your desk. My record on that is pretty good, though — as is most people's — so this should work nicely.