Manage
Learn to apply best practices and optimize your operations.
Businesses Should Wait On Fall Creators Update
Ed Bott at ZDnet dispenses some excellent advice in today's Bott Report. In an article entitled "Windows 10 tip: Temporarily delay the Fall Creators Update," he recasts conventional wisdom for business users. In this age of twice-a-year upgrades, practicing due diligence translates to "Businesses should wait on Fall Creators Update." This adapts the well established business practice of tracking behind MS release dates to meet internal test and deployment cycles anyway. OTOH, businesses might instead prefer to adopt the Current Branch for Business (CBB) for Windows 10. Then, they'll automatically lag a full release behind the leading edge anyway.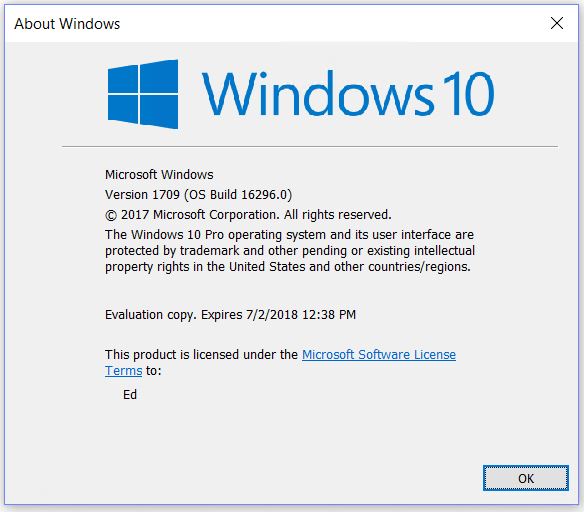 For the past three Insider Preview releases, the next Win10 release is labeled Version 1709.
Reasons Why Businesses Should Wait On Fall Creators Update
Once upon a time, businesses would wait until the first Service Pack for a new major release emerged before jumping on the upgrade wagon. These days, SPs are history, and a rolling and continuous upgrade cycle makes jumping both more interesting and problematic. I think Bott's absolutely correct to urge businesses to hang back and exercise caution. And indeed he also recommends deploying the new release into test environments first and foremost. That way, businesses can assess the impact and determine proper remediation strategies as and when they're needed.
Once businesses get a handle on potential impact, and necessary changes and workarounds that come with them, they can start thinking about deployment. My best guess is that they'd be inclined to wait for the next scheduled upgrade cycle. At that time, they can decide to roll forward and track the latest release, at a discreet remove, or not.
And so it goes for IT pros in Windows-land. It's time to start getting ready for the next big upgrade cycle. One thing's for sure: ready or not, here it comes!