News
Stay informed about the latest enterprise technology news and product updates.
Check Out Ed Bott's Windows 7 Upgrade Survival Guide
Long-time Windows guru Ed Bott blogs for ZDNet, and his postings are often sources of great information, tips, and tricks for that OS. His 9/14/09 posting "The Windows 7 upgrade survival guide" is no exception to this rule, and includes seven useful tips to help ease the upgrade process along. Now that I've upgraded half a dozen machines myself in the last two weeks, I can attest to the veracity and usefulness of these tips, though some will prove more relevant or germane than others.

Download this free guide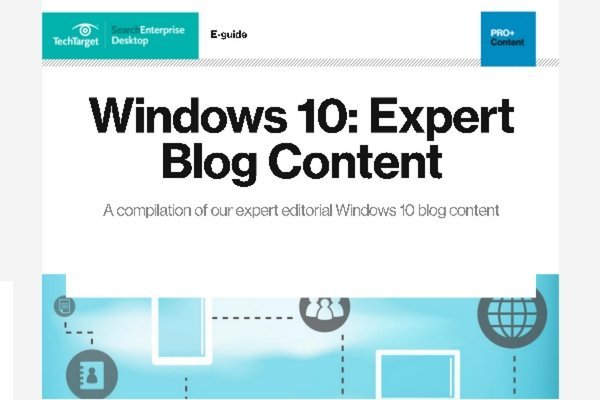 Download: Our 23-Page Editorial Collection of Windows 10 Blog Content
Inside this exclusive download offer, you'll find a compilation of all of our top followed Windows 10 blog content written by our expert editors, who combined have over 30 years of experience in the IT industry. We've compiled a variety of these expert blogs for you - offering best practices and breakdowns designed to help IT professionals tackle the top Windows 10 tips, tricks, concerns and more.
Here's a quick recap of what you'll find in this short but sweet blog posting:
Run setup from a flash drive or USB hard drive. These devices are faster than optical drives, and save time on installation normally devoted to reading from optical media.
Move big data collections off the system drive before starting the upgrade. All this stuff has to be read, indexed, and handled as part of the upgrade process, even though not much happens to such files (especially digital photos, music, movies, and other media files). Copy 'em onto another drive, then delete them from the system drive before you upgrade (you can always copy them back when they're done, if you like).
Use the Windows 7 Upgrade Advisor and address all compatibility issues before starting the upgrade. Just do it!
Ditch old and unwanted software. Use Programs and Features or a third-party tool (my fave: Revo Uninstaller) and get rid of stuff you no longer use, no longer want, or no longer need. Not only will this get rid of clutter, it will also speed the upgrade process (which takes time to migrate each application into the Windows 7 runtime environment).
Upgrade your HD as well as your OS. If you're feeling cramped for space on your system drive, you might want to replace it before you perform the upgrade. Lay down an image backup on the new drive, and you'll have more room to work and play after the upgrade completes. If anything goes wrong, the old drive will still work, and can take over for the new one.
Grab all the drivers before you upgrade. Use a utility such as Driver Detective, DriverAgent, or RadarSync — or your own personal favorite — to grab Windows 7 or Vista drivers for your PC. As Bott observes, you must have a usable network driver at a bare minimum, so you can then use the Internet after the upgrade to fetch whatever else you might need.
Make a clean image backup after you upgrade. This will provide a pristine image of your new system after the upgrade, and give you a place to go back to later on if something goes haywire with Win7. To make this easy, the OS itself provides image backup capability for all Win7 versions.
That's about it, and it's all pretty good advice. If you're facing Windows 7 upgrade maneuvers, you'll find these tips helpful and handy.