News
Stay informed about the latest enterprise technology news and product updates.
Check out the MED-V 1.0 User Guide!
Microsoft Enterprise Desktop Virtualization (MED-V 1.0) is software that uses Microsoft Virtual PC to provide an enterprise toolset for desktop virtualization. It lets admins create, deliver, and amange Virtual PC images on Windows desktop PCs, and is a key component of the Microsoft Desktop Optimization Pack (MDOP) that's routinely delivered to Microsoft Software Assurance customers. The final version of this guide went live on October 8, 2009, and you can now download this Operations Guide from the Microsoft Download Center.

Download this free guide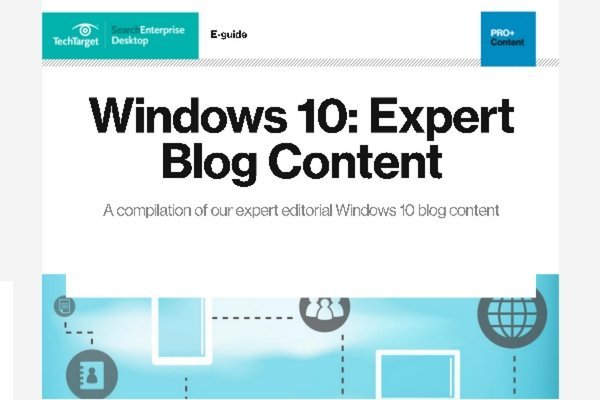 Download: Our 23-Page Editorial Collection of Windows 10 Blog Content
Inside this exclusive download offer, you'll find a compilation of all of our top followed Windows 10 blog content written by our expert editors, who combined have over 30 years of experience in the IT industry. We've compiled a variety of these expert blogs for you - offering best practices and breakdowns designed to help IT professionals tackle the top Windows 10 tips, tricks, concerns and more.
By submitting your personal information, you agree that TechTarget and its partners may contact you regarding relevant content, products and special offers.
You also agree that your personal information may be transferred and processed in the United States, and that you have read and agree to the Terms of Use and the Privacy Policy.
The file in question is a 855 KB Word .doc file named MED-V1.0.Guide.doc, and is 83 pages long. It provide an overview to MED-V including a high-level architecture description, and an overview of virtual images based on MS Virtual PC. You also get information on installing the MED-V server, configuring the server itself and stocking it with images, installing and working with the MED-V client software, and working in the client/server MED-V environment. There's also deployment information, tips on how to add and manage published applications, create and manage workspace images, manage MED-V settings, and more.
If you're curious about how this environment works and what it can do, you can skim this document in under an hour and come away with an excellent understanding of what's required, what's involved, and how to work with this tool. For those interested in MS base virtualization, or already considering MDOP it's a no brainer. For the curious, it could also be a rewarding read.