News
Stay informed about the latest enterprise technology news and product updates.
Clean (Re)Install Benefits from Driver Backup Utility
In reading over an interesting article on Ars Technica this morning, I realized that many online sources (including the otherwise redoubtable Ars) that describe how to reinstall Windows to eliminate OEM-provided "bundleware" tend to leave managing Windows drivers as an exercise for the IT pro or Windows enthusiast tasked with that job. There's no need to jump through numerous hoops to take a snapshot of installed drivers prior to a Windows reinstall, though. Instead, I'd recommend any of a number of good utilities that will happily collect this information for you to make it available to Device Manager once you're far enough along in the reinstall process to use the "Update driver" option on a driver-by-driver basis within that framework.
Thus, for example, eSupport's for-a-fee DriverAgent tool includes a built-in driver backup facility, as do most other such driver management tools. Those who don't wish to lay out any cash to back up their drivers can (and probably should) turn to the SourceForge utility named DriverBackup! instead. Either way, you can easily harvest all of your drivers with little muss or fuss involved. For easiest access, in fact, grab a USB Flash Drive and back the drivers up on that device. Then, you can point to those drivers as and when they might be needed: this can be incredibly handy in the occasional odd situation where the Windows OS installer needs a driver during the installation process, as might for example be the case on a PC that boots from a RAID drive. Ditto for post-install when looking for drivers to update or add from inside Device Manager.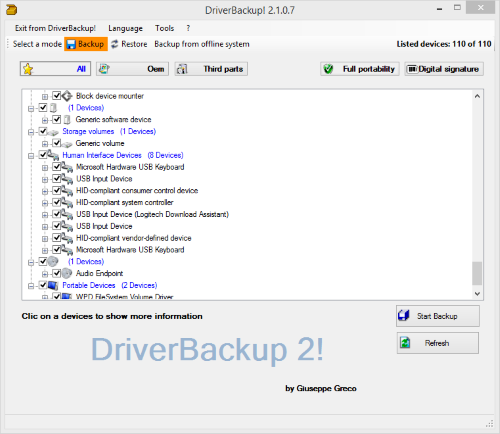 As shown above, the user interface for DriverBackup! makes it trivial to grab and save a snapshot of the entire collection, which may then be used later on to restore drivers in need of update or installation once the clean (re)install is over and done with. Or, if you prefer, you can work inside Device Manager, and simply point to the destination folder for the backup on your UFD, after which Device Manager will ferret out the driver it needs for the job.