News
Stay informed about the latest enterprise technology news and product updates.
DISM Does Updates, Too!
Later last Friday (12/4), MS fired off KB3122947, labeled "Update for Windows 10 Version 1511 for x64-based Systems." At first, I thought nothing of it, after getting it installed on a handful of PCs. But when I tried to update my Surface Pro 3, I encountered a repeated failure condition with error code 0x80070643. When I went looking for the manual update file to download and install by hand, I couldn't find one (still can't, in fact) but I did find something even more interesting. It turns out that the Deployment Image Servicing and Management command, aka DISM, also includes an add-package switch that lets admins target updates and install them directly and immediately. Here's the fix, as it applied to this update file: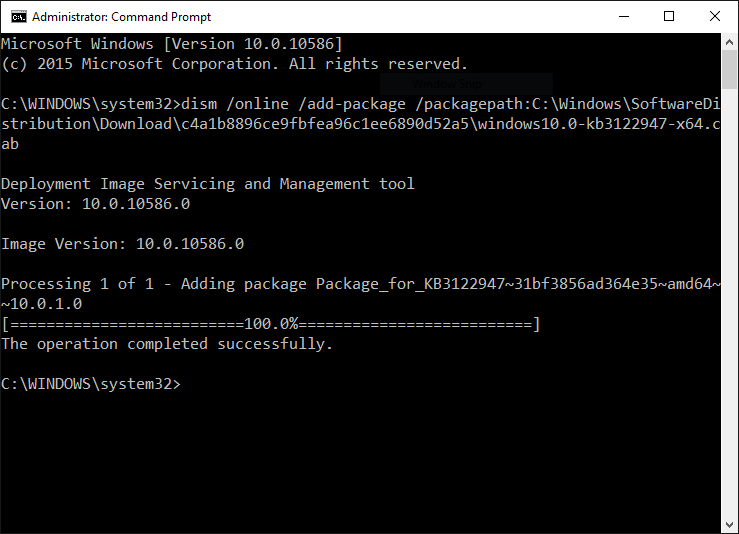 Turns out that if you know where to look for failed update install files, you can turn DISM loose on that task.
As the foregoing screen capture goes, the general syntax looks like this:
dism /online /add-package
/packagepath:%windir%\SoftwareDistribution
\Download\<dir-spec>\<pkg-spec>
The trick, of course is in finding the package file, which is relatively easy to do because it includes the KB article designator — KB3122947 in this case — as part of the filename. I used my search tool of choice (Search Everything) but you can simply use the built-in Windows Search facility through File Explorer if you prefer. Other than making sure to get the packagepath syntax (and content) correct, the process couldn't be simpler. And because WU generally leaves the files it downloads in the SoftwareDistribution folder hierarchy even if installation fails, there's no need to download a manual installer for balky updates ever again.
Sweet! I'm starting to think of DISM as something of a "Swiss Army Knife" of Windows maintenance and upkeep. Sooner or later, I'm going to have to pull all of the individual bits and pieces I've been documenting here in the blog into a more comprehensive reference. I just wish MS offered something more than a man-page type of reference for this increasingly excellent tool.