News
Stay informed about the latest enterprise technology news and product updates.
Exam 70-623 Pro: Supporting and Troubleshooting Applications on a Vista Client
Another gargantuan title not only heads up this exam, but also helps to tell would-be candidates if this represents their particular cup or tea or not. Like 70-622, 70-623 features another old-fashioned exam page. Along with exam 70-620, passing this exam qualifies individuals for the MCITP Customer Support Technician credential. Although this is not strictly an enterprise-focused Vista certification is remains pretty germane to such operations, especially those that operate their own help desks or tech support operations, or who want to establish sufficiently high bars for their vendors to jump to make sure outsourced service or support meets their needs.

Download this free guide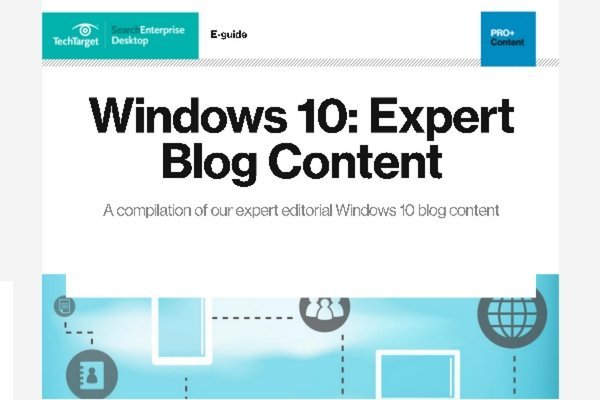 Download: Our 23-Page Editorial Collection of Windows 10 Blog Content
Inside this exclusive download offer, you'll find a compilation of all of our top followed Windows 10 blog content written by our expert editors, who combined have over 30 years of experience in the IT industry. We've compiled a variety of these expert blogs for you - offering best practices and breakdowns designed to help IT professionals tackle the top Windows 10 tips, tricks, concerns and more.
The target position for this credential is somebody who works as a consumer, customer, or user support technician. To succeed with this exam, candidates should be experienced across a range of desktop OSes, applications, and mobile devices. They should also have some experience (more is better) in handling network, malware, and hardware support issues from reporting through research and investigation into reporting and resolution phases. Likewise, candidates need experience in implementing, managing, and troubleshooting desktop OSes in stand-alone or SOHO network situations.
Here's the drill on the preparation tools and resources available for this exam:
Classroom training: Course 5118: Maintaining and Troubleshooting Windows Vista Computers, and Course 5119 Supporting the Windows Vista Operating System and Applications.
e-Learning offerings: Collection 5366: Maintaining and Troubleshooting Computers Running Windows Vista, Collection 5372: Deploying Windows Vista Desktop Images and Applications, and Collection 4379: Supporting Windows Vista for the Consumer Support Technician. Those who already hold an MCDST can also dig into Collection 5104: Upgrade Skills to Support Windows Vista Consumers.
MS Press book: There's a Self-Paced Training Kit available for Exam 70-623 as well.
Here are some highlights of what this exam covers (for all the gory details, check out the "Skills Measured" table on the exam page; as with other exams, configuration and troubleshooting element recur repeatedly throughout this entire list):
Install and Upgrade Windows Vista:
Evaluate potential upgrade enviornments, prepare to install Vista, troubleshoot and resolve installation issues, likewise for post-install issues.
Post-Installation: Customize and Configure Settings:
Configure Sidebar, Aero, user accounts, and evaluate user requirements to recommend, set up, and configure desktop apps, then recommend appropriate settings by evaluating user systems to optimize performance.
Configure Vista Security:
Work with Windows Security Center, firewalls, Windows Update, Defender, parental controls, IE 7, UAC, and data protection settings and configuration.
Configure, troubleshoot, and repair networking:
Work with network protocols, network services (client side), Network and Sharing Center, wireless networking, file and print sharing, and Media Center settings, configuration, and troubleshooting.
Install, Configure, and Troubleshoot Devices:
Connect peripherals; install, configure, and troubleshoot: mobile devices, digital cameras and camcorders, media devices, and printers, fax machines, and copy devices.
Troubleshoot and repair Windows Vista:
Diagnose specific issues, repair a corrupted OS, and remove malware from a client system.
Where over 7,000 of the MCITP Enterprise Support Technician credentials have been granted as of October 2008, only 987 hardy souls had completed the MCITP Consumer Support Technician credential by that same date. What does this say about the relative importance or popularity of these two credentials? Perhaps that enterprises understand the need for certification (as do their employees) more than do independent or in-store support or help desk operations. This exam is probably not as important for enterprise types, unless they run their own support or help desk operations that include in-home support for mobile, telecommuting, temporary, contract, or other off-site workers. In such situations, however, it should be absolutely invaluable.