News
Stay informed about the latest enterprise technology news and product updates.
Fixing 2 Win10 Build 10049 Gotchas
I've got two test machines upon which I'm running the latest Win10 build, namely 10049. In getting those machines up and running, I've found myself subject to 2 inadvertent gotchas along the way. Because one prevents the build from activating, and the other sucks up beaucoups disk space (about 2.5 GB) I'm going to share the fixes as well as explain what's going on in each case.
Gotcha 1: All Language Packs Automatically Install
Through some no doubt accidental configuration setting, downloading Build 10049 from Windows Update automatically installs all available language packs for Windows 10. Although that current list includes "only" 19 languages at the moment, that still represents a lot of data which in turn sucks up substantial disk space. To uninstall unwanted language packs enter the command lpksetup /u at the Windows command line, then pick all the languages you wish to have uninstalled from the "Install or uninstall display languages" window that pops up in response. The whole process takes about 15 minutes to complete if you eliminate everything except your core language (and the base English MUI which is always installed). This also explains why installing Build 10049 seems to take longer to download and install than previous Win10 builds: it includes a whole lot more data!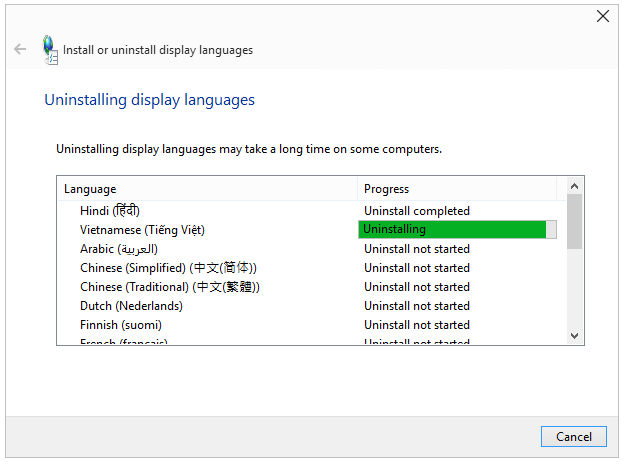 It takes around a minute for each language to uninstall, so multiply that by 17 for total removal time.
Gotcha 2: Yet Another Hard-to-find Activation Key
If the ISOs are available for a Win10 build, all you generally need to do to grab the activation key for that build is to visit that page. But when the build is only in the "fast-ring" stage, the ISOs aren't yet available, so one needs to do some hunting and pecking to find that key. This time around, I located an MS Community Wiki article entitled "How to activate the latest Windows 10 build" that provides the key despite also claiming that "By default, Windows 10 builds are pre-keyed, meaning, you do not have to enter a product key and should not be prompted to enter one even after Windows 10 has completed setup." Alas, I must be either cursed or unlucky, because Windows Activation has demanded a key from me for every Win10 build I've installed from Windows Update so far (the ISO versions don't seem to suffer from this gotcha, either). At any rate, you can find the key needed for a successful activation on that page if you need it, as I did.