Manage
Learn to apply best practices and optimize your operations.
Fixing Black Win10 Desktop
For some so-far undetermined reason, I'll occasionally log into Windows 10 and find myself staring at a black desktop. Because I shoot LOTS of screen captures for articles, books, and whatnot, I usually set my background to all white. So when my background goes dark, I need a quick fix to turn the lights back on, so to speak. It turns out that fixing black Win10 desktop is pretty easy, if you use the Personalization tool. Simply right-click any unoccupied area of the desktop and you get a pop-up men that includes Personalize amidst its entries.

Download this free guide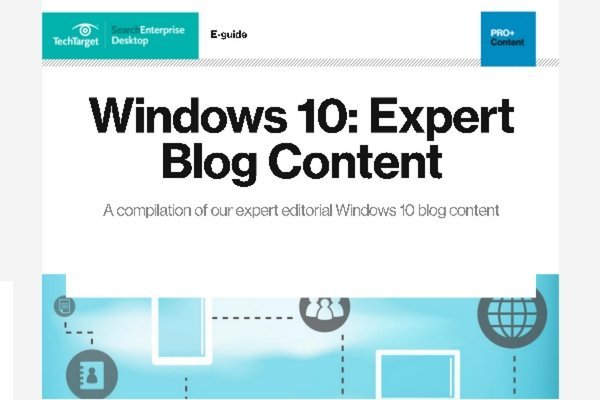 Download: Our 23-Page Editorial Collection of Windows 10 Blog Content
Inside this exclusive download offer, you'll find a compilation of all of our top followed Windows 10 blog content written by our expert editors, who combined have over 30 years of experience in the IT industry. We've compiled a variety of these expert blogs for you - offering best practices and breakdowns designed to help IT professionals tackle the top Windows 10 tips, tricks, concerns and more.
The option of interest shows up at the bottom of the menu.
How-to: Fixing Black Win10 Desktop
Once you click the Personalize entry on that menu, you'll find yourself in Settings –> Personalization. Normally, when my desktop goes black, that means that Background remains set to Solid Color with a checkmark on the black box.
Getting back to white requires clicking Custom color, then moving the slider all the way to the right to turn black into white. That's all there is to it for me. This is a big improvement over earlier Win10 versions (and Windows 8) which didn't offer white as a custom color option. I actually had to capture a white field in a graphics editor, then save it as a file I could designate as my background. This is much easier and faster, too. Should you ever find yourself in this boat, now you know how to fix black Win10 desktop, too!