Manage
Learn to apply best practices and optimize your operations.
Handy PING Sweep Tool
In the song Hey You, Pink Floyd raises a question that all network admins have surely uttered. That question goes: "Is there anybody out there?" While its nuances aren't as dark for networks as in the song, this question is one that occasionally demands an answer. To that end, some kind of network scanning tool helps. I just found a good, free tool from Northwest Performance Software, well-known vendors of NetScanTools Pro. They've got a free subset of those selfsame tools called NetScanTools Basic Edition (Zip file download). It includes a handy Ping Sweep tool named Ping Scanner that does a nice job on LANs. Here's a screencap: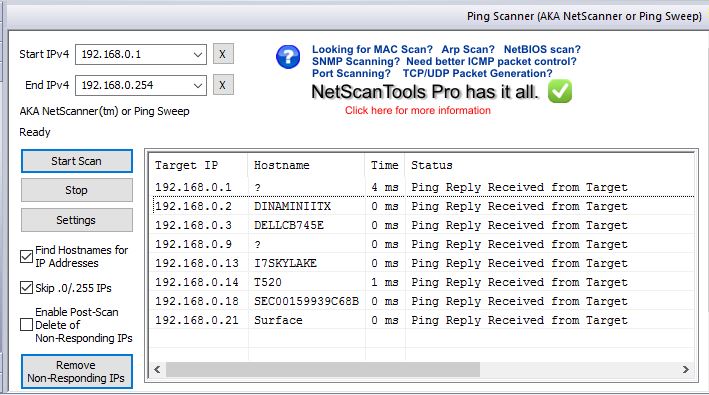 The "remove non-responding IPs" button is what makes this tool great.
What Makes This Handy PING Sweep Tool Special?
As the preceding screen capture's caption intimates, the tool includes a button (lower left corner) of particular interest. It's labeled "Remove Non-Responding IPs." What it does is to drop listings for all inactive addresses in the range that gets scanned from the resulting output. That means the only listings shown are for IP addresses actually active on the network when the scan occurred.
The two question mark items fall at 192.168.0.1 and 192.168.0.9. Savvy readers already know that the first address is also the first usable address in that Class C Private Address subnet. It represents the router/gateway device that provides Internet access, DHCP, access controls, and more for the LAN. 192.168.0.9 is my son's Xbox which doesn't identify itself with a hostname. But it's really the absence of all the empty addresses that makes the tool valuable. One sees only what's out there, and nothing else, with no empty slots to skip over.
I like this very much, and so will you. Other tools in this program provide information about DNS, ping and traceroute, whois, and more. Grab yourself a copy today, and try it out.