News
Stay informed about the latest enterprise technology news and product updates.
Insider Preview 16288 Failing More Than Succeeding
I've got two test machines in my office dedicated to running Insider Preview versions of Windows 10. Just yesterday, MS unleashed Build 16288. In trying to get it installed this morning, I succeeded on the desktop test machine, but failed on the hybrid tablet. This produced an interesting error message I'd never seen before. It also led me to discover an online poll at ONmsft.com. It shows installs of Insider Preview 16288 failing more than succeeding. Go figure: with Fall Creators Update now scheduled for October 17, you'd think things would be fairly solid.

Surrounding news reports indicate that fixes are being staged in variants, due out starting at 5PM PDT today.
Evidence that Insider Preview 16288 Failing More Than Succeeding
The folks at ONmsft.com put up a poll page to gauge user experiences in installing this latest build. Right now, it appears that only about one in ten attempts to install the OS result in complete success. Here are those numbers, after I voted twice. (The status message shown simply indicates that the display shows my votes had already been counted; I saw the proper counters increment after each one):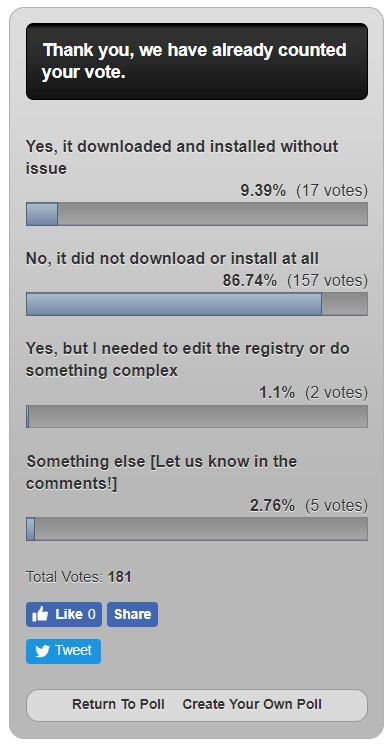 As more people vote, these numbers will change, but here's how things stand at around 11:30 AM Central Time on 9/13/17.
It will be interesting to see how all this rolls out over the next day or two. Usually, Win10 Insider Preview builds either succeed nicely or fail miserably. This one appears to fall in a grey area between those extremes, albeit more on the failing side. That said, if MS delivers the promised fixes, this will no doubt be just a temporary pothole on the road to the Fall Creators Update release next month. Please stay tuned, and I'll keep you informed. That's how things sometimes go, when beta-testing software (especially OS releases).
Follow-up: September 13/14
After 5 PM PST, as promised, MS released newer versions of the 16288 build. It worked like a charm on my Dell Venue Pro 11 (7139), as it reportedly has for most others who've tried to install since then. This looks like it was a purely temporary hiccup. It's interesting to see MS being willing to air its dirty laundry and show rapid progress with fixes at the same time. It's kind of distracting to have to keep checking on stuff when it doesn't work out the gate, but also heartening to see MS come up with workable fixes in pretty short order.
I got feedback from one blog post reader that people could care less about this kind of thing. But according to my various sources of access tracking, more than 300 people read this post within a day of its release. And so it goes, here in Windows-world!