News
Stay informed about the latest enterprise technology news and product updates.
Insight into the Windows 7 "Device Experience"
One interesting change in interface and behavior in Windows 7 is the addition of the Devices and Printers option in the Start menu (depicted below). This new facility not only shows you the devices installed on or known to your Windows 7 PC, it also provides a staging area where it is easy to add new devices or printers to your PC. As you can tell from the following screen shot, I've already made serious and interesting uses of this new facility.
Most of the devices and printers present appear courtesy of Plug and Play as soon as they're attached to your PC. Others require some effort to make their appearance (such as the HP LaserJet 4/4M PS currently attached to my wife's PC, about which I wrote in these blogs: Interesting Antics and First Casualty of Windows 7).
Until recently, however, I think I really lacked a conceptual framework to help me understand Devices and Printers more thoroughly in the Windows 7 environment, despite mucking about with this utility for over six months now. Thankfully, this has now been rectified thanks to a length and detailed posting to the Windows 7 Team Blog entitled "The Device Experience in Windows 7-UPDATED" by Jack Tao (posted courtesy of Brandon LeBlanc, most recently on 9/1/2009). This white-paper-like posting explains the design goals for the Devices and Printers Control Panel item, and also digs into the Device stage shown in the next screencap.
Enhancements here include multiple device interaction models based on device type and capabilities, including automatic icon appearance for devices in the taskbar when connected, with jump lists to match frequently selected tasks (photo upload/mangement for cameras, music upload/download from mobile players, address book synchronization with smartphones, and so forth). In the background an XML Schema drives visible options and behaviors, and makes it easy for developers to provide heavily customized stages for their devices, and straightforward for users to put them to work. Here's an example of what happens when I hook up my son's low-res digital camera up to my Windows 7 PC via USB cable: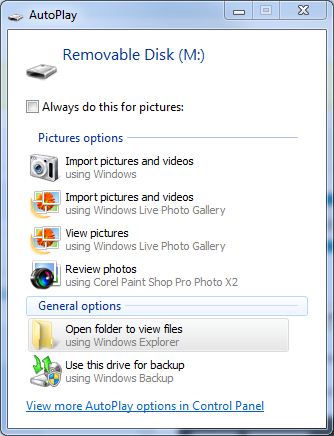 After I select an item from this menu, a wizard guides me through photo upload from camera to PC for storage, printing, editing, or whatever. Same thing goes for devices of other types, in that options provided match typical tasks a user might wish to perform with said device. Dig into Tao's article for more details on how this works, and what it can do (along with some nice diagrams about how the staging process works). It's definitely worth a read!