News
Stay informed about the latest enterprise technology news and product updates.
Interesting driver status for clean Windows 8 installs
When moving from an older Windows version to a newer one where an upgrade path exists, the upgrade install option picks up and carries as much of the older environment into the newer one as it can. This usually includes any or all device drivers that remain compatible from old to new versions as well, along with preferences, settings, and even such tools and programs as remain viable in the new target environment. But what about a clean install for Windows 8 and device drivers? I have tried this out on a handful of machines now, and have observed a new approach from Microsoft in setting up such installs — namely, much more widespread use of generic and current device drivers to create installations that work quite well from initial boot-up under the new OS.
Thus, for example, here's what my go-to driver scanning tool reports for my X220 Tablet PC immediately following a clean Windows 8 install:
There are 18 drivers listed here, and the machine worked more or less well immediately following installation and application of standard updates. I had to force load the Intel chipset drivers for this machine (the latest Series 6 infinst.exe file from the Intel Driver Download Center, and I did find four "question mark drivers in Device Manager () and after finding and fixing those items, here's what my final Driveragent scan looked like including drivers for all currently disconnected devices: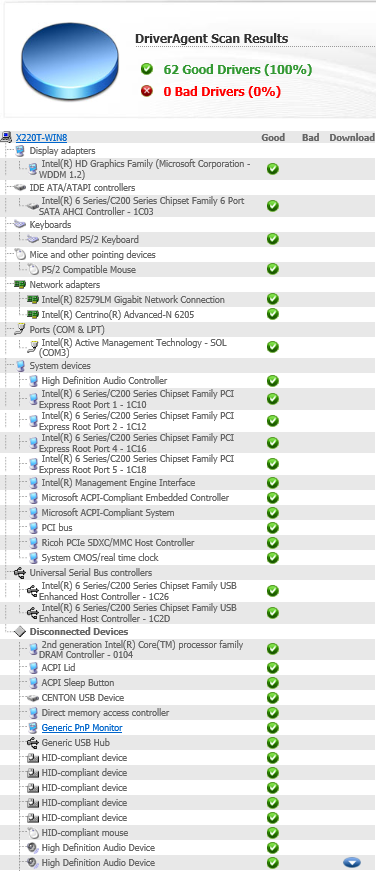 This is what turned up at the end of my driver odyssey, after installing the Intel Chipset drivers, finding and fixing all the question mark entries in Device Manager, visiting the Lenovo driver downloads on the company Website, and repeatedly running DriverAgent until everything finally showed updated. The complete time to finish this exercise was between two and three hours, mostly because of the repeated reboots required when installing many Windows drivers. I'm a little curious why some devices show up in the Disconnected category (such as the numeric coprocessor and the programmable interrupt driver, which you'd think would be used all of the time, and especially the OCZ-3 Agility drive, which is home to this system's Windows 8 OS) but other than that, everything now seems pretty ship-shape.
But right after clean OS install, MS did as good a job, or better, of putting a working and workable system in my hands as for any clean Windows install I've done since NT 4.0. So maybe there is something else to like about Windows 8, aside from snazzy Metro graphics and a touch oriented interface? On the other hand, it just might be my having chosen from the recommended platforms for testing Windows 8 also means that the drivers are already known to be stable and working! We can't really know more until the GA release comes out and gets old enough to have to deal with new hardware it never saw when the OS was built, and the driver libraries assembled.