News
Stay informed about the latest enterprise technology news and product updates.
MS Eases Activation in Latest Win10 Preview Build
I've been steering clear of writing about Windows 10 Preview builds since the 10240 Build became publicly available starting on July 29, mostly in the interests of addressing the Windows 10 version that the vast majority of users have at their disposal. But a single change to the latest released Insider version (numbered 10565) requires me to report and comment to the broader world of Windows admins, as it promises to make their jobs easier.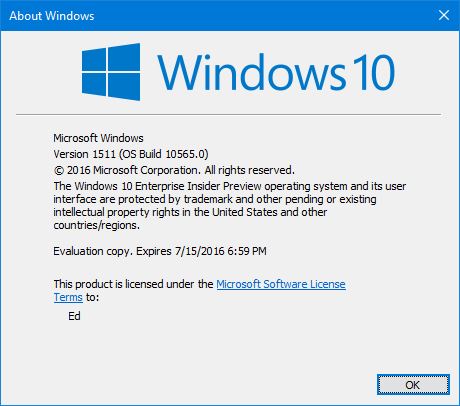 Simply put, Build 10565 lets you use a Windows 7 or 8.1 product key to activate a clean Win10 install on an eligible PC.
Here's what that change boils down to: instead of requiring an upgrade from Windows 7 or 8.1 to complete successfully, before allowing a clean install of Windows 10, this latest build allows a clean install of Windows 10 on a target machine, where its original Windows 7 or 8.1 key may be used to activate Windows 10 during the clean install process. In other words, an immediate clean install is now possible, using the key from the OS resident on the target PC at the time the clean install gets underway. This is not only simpler, it's also much faster than having to go through the upgrade before enabling a clean install to occur.
As reported in a story on Neowin.net the crux of the matter is summarized in this quotation from the Microsoft changelog for the 10565 build:
We have received a lot of feedback from Insiders on making it easier to activate Windows 10 on devices that take advantage of the free upgrade offer to genuine Windows by using existing Windows 7, Windows 8 or Windows 8.1 product keys. If you install this build of the Windows 10 Insider Preview on a PC and it doesn't automatically activate, you can enter the product key from Windows 7, Windows 8 or Windows 8.1 used to activate the prior Windows version on the same device to activate Windows 10…
If the automatic upgrade doesn't work, users can take the Change Product Key option in Windows Activation and enter their original Windows 7 or Windows 8.1 product key to activate their Windows 10 free upgrade.
Microsoft actually listening to and acting upon well-reasoned user feedback and input? Wow! What's the world coming to? Seriously, this could be the best single change to the Windows 10 upgrade/install process made so far, and an incredible boon to admins and power users tasked with making that upgrade everywhere. And that's why I felt compelled to blog about it today, too, even though installing 10565 on one of my test machines re-introduced the by-now-familiar "won't recognize Killer Ethernet devices" problem I've seen on numerous prior Preview releases.