News
Stay informed about the latest enterprise technology news and product updates.
MS Status on UUP as Creator's Update Nears
Yesterday, Bill Karagounis, Microsoft's Director of Program Management for the Windows Insider Program offered an update on UUP. It appeared in a Windows 10 blog post entitled "An Update on our Unified Update Platform (UUP)." That post is both helpful and interesting, and explains some of the shenanigans I've been experiencing and following lately on TenForums.com. Thus we get MS status on UUP as the upcoming Creator's Update is nearly upon us. Here are some high points:
The promise to reduce download size for build updates is happening, thanks to a new technology called "differential downloads."
When UUP hits the Current Branch in Creator's Update, user can expect download size reductions of around 35%.
Windows Update surveys PCs requesting updates to determine which differentials they need, and downloads only those items.
MS Status on UUP Is Mostly Positive
Here's a graphic from the blog post that shows download size distribution. It also notes the median size for downloads on two recent builds (15025 and 15031; we're on 15048 in the fast ring right now).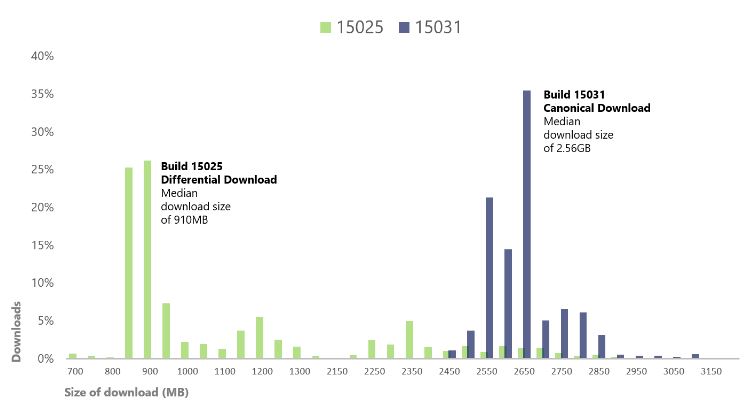 Median sizes can vary widely: 15025 was 910 MB, but 15031 was 2.56 GB.
The real impact of UUP comes for Cumulative Updates not for Version Upgrades (like those from 1507 to 1511, or from 1511 to 1607 for Current Branch users). Because they happen more or less monthly and not just twice a year, this will pay off handsomely in faster downloads and less aggregate bandwidth consumption on the Internet. Good move, MS!
What the blog post doesn't address, is why various issues have cropped up with UUP as the developers work out its kinks. I've heard about and experienced hung downloads, hung installations, interminable download delays, and more. Just recently, the ability to capture UUP download files and convert them into an ISO was broken (Build 15042). Fortunately it's now working again (Build 15048). I wish Microsoft would open its kimono and tell us more about these kinds of things, too. UUP is a good thing: my latest upgrade to Build 15048 was fast and smooth on both of my test machines. But I'd like to know and understand more about its inner workings. Wouldn't you?