News
Stay informed about the latest enterprise technology news and product updates.
MS Upgrade Analytics for Win10
Today at its Ignite Conference, MS issued a flurry of announcements and info. Less than a month after the release of Windows 10 Anniversary Update, it's no surprise that Windows 10 items dominated. In fact, I've just finished listening to several sessions online (available on the conference home page). IMO, the richest vein came in Rob Lefferts' talk entitled "Windows 10 — The time is now." Lefferts introduced a raft of topics I'll be mining for a while, starting with MS Upgrade Analytics for Win10.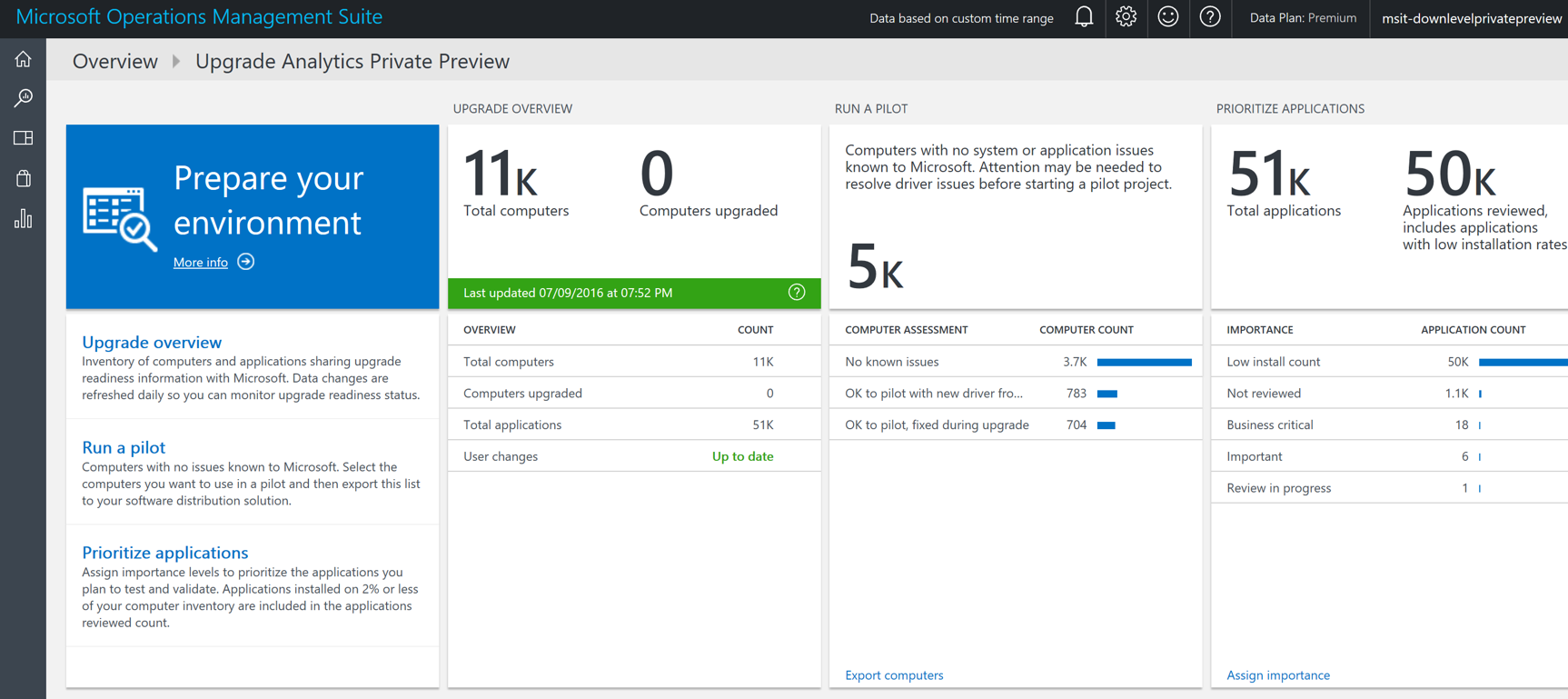 This is the top-level dashboard for MS Upgrade Analytics.
[Click image to view full-size]
What Is Upgrade Analytics for Win10?
Upgrade Analytics seeks to help organizations gather data to evaluate their application and driver situation. Typically, IT pros validate business-critical applications before upgrading PCs that run them, to make sure deployment won't downgrade productivity. Most organizations use hundreds to thousands of applications, which makes testing all of them in advance costly and time-consuming. Upgrade analytics helps IT admins speed Win10 upgrades with reports on:
Current application and driver inventory, with usage data
Information about known driver and application issues, with mitigation advice (where available)
Tracking which drivers and applications are ready for Windows 10
Per-computer readiness assessments to target PCs for Windows 10 deployment
An Upgrade Analytics public preview is already available. It requires an Microsoft Operations Management Suite (OMS) workspace. But Upgrade Analytics incurs no extra charges for those using a Standard or Premium tier workspace. The 7/22/2016 announcement blog post includes all the details. At today's Ignite, Microsoft added support for Site Discovery and Ready for Windows data to Upgrade Analytics. The former provides an inventory of web sites that Windows 7 and 8.1 devices visit, while the Ready for Windows website lists software applications broadly adopted on Windows 10. Upgrade Analytics helps IT pros identify potential risks involved in Windows 10 deployment, and provides advice on how to bypass potential problems. This one should be fun to try out, and play with.
Here's a list of additional resources and reading material on Upgrade Analytics: