News
Stay informed about the latest enterprise technology news and product updates.
Media Creation Tool and MSDN Win10 Versions Diverge
There's been a whole lotta hoopla over the past few days about the sudden disappearance of Version 1511 (Build 10586) from the Media Creation Tool late Friday, 11/21. Of the many stories published on this topic, the items from Ed Bott at ZDnet and Peter Bright from Ars Technica, are especially interesting. Current speculation on the reasoning behind this surprise move from the Colossus of Redmond seems to center around the notion that as-yet-undocumented bugs in this new release have prompted the decision to yank the images from the Media Creation Tool, and to revert to Version 1507, better known as Build 10240.
Being myself of a curious nature, I zipped on over to MSDN where Build 1511 also made its appearance on November 12, to see if it had been pulled from that subscribers-only download mecca as well. Here's what I found: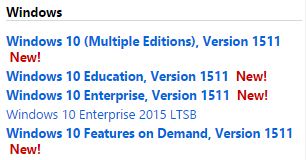 Version 1511 remains readily available on MSDN, as of early AM Texas time 11/24.
This may just mean that MS hasn't gotten around to pulling these files just yet, so it will be interesting to watch what happens to MSDN over the next day or two. It may also mean that the speculations about the bugginess of 1511 may be somewhat over-stated. For my own part, I've been running 1511 on my Technical Preview test machines for three or four weeks now without any obvious issues, and on all six of my regular Windows PCs (three desktops, a Surface Pro 3, an All-in-One, and a Lenovo X220 tablet) likewise since 11/13 or thereabouts.
While we're all waiting for the dust to settle, I'd like describe fact and history as we know them at present. Previously, MS has only updated installers for major version changes and Service Packs, and such updates have propagated to the Media Creation Tool (let's abbreviate this as MCT, and further observe that it is a utility of fairly new provenance, with roots only as far back as Windows 8.1, though Windows 8 did offer similar functionality under a different name) and MSDN in tandem. If the 1511 release counts as a "Service-Pack-like" update to Windows 10, then indeed it makes sense for it to be made available via the MCT and MSDN. Given that the two sources are currently divergent, I'd expect something else to pop up on the MCT front, to catch it up with MSDN. Or, we could be looking at a new regime for Windows 10, where the subscribers have access to releases not made available to the general public. Again: it should be interesting to keep watching, and see which way the mop flops next. According to neowin.net, 1511 is still supposed to be available through Windows Update, though some users have not been able to access it through that delivery mechanism (but that might be a function of a 10240 install that is less than 31 days old, and thus ineligible for WU to offer the upgrade, to give users 30 days to revert to the previous installation).
Very interesting!
[Update: 8:45 AM CDT 11/24] Paul Thurrott points to an 11/20 System Center Configuration Manager Team Blog entitled "Issue with the Windows ADK for Windows 10, version 1511" as a possible explanation for why MS yanked the update from MCT. It affects multiple releases of the product and includes the statement "we do not recommend that Configuration Manager customers use the 1511 version of the Windows 10 ADK" (ADK stands for Assessment and Deployment Kit, a collection of tools that sysadmins can use to customize, assess and deploy Windows OSes to new computers). He may be right that this explains the current back-pedaling, and I believe he's also right to speculate that "bringing back integrated installs will happen in the future."
[Update: 2:30 PM CDT 11/24] Windows info site Tenforums.com cites MS MVP Greg Carmack's reports of activation issues with V.1511/Build 10586 as possible cause for switching the MCT from 10586 back to 10240 (and possibly also for making them temporarily off-limits through Windows Update, protestations to the contrary notwithstanding). Read the whole thread for some whacky and entertaining conspiracy theories.