News
Stay informed about the latest enterprise technology news and product updates.
Michael Dell's internal letter to employees on going private
Dell has officially gone private.
The company has been in a transformation phase for some time as cloud computing, tablets, and mobile devices have eaten into its PC and server business. Industry watchers say that going private could help the company compete in new markets.

Download this free guide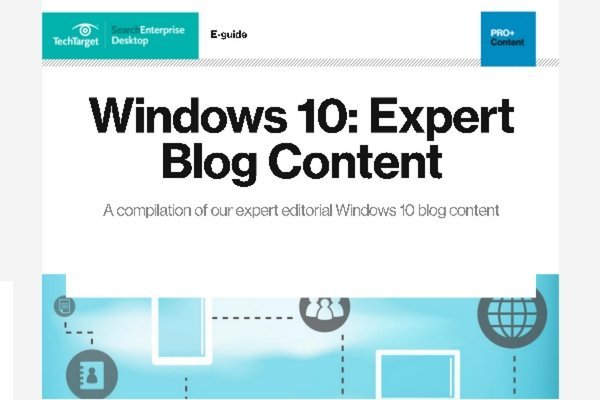 Download: Our 23-Page Editorial Collection of Windows 10 Blog Content
Inside this exclusive download offer, you'll find a compilation of all of our top followed Windows 10 blog content written by our expert editors, who combined have over 30 years of experience in the IT industry. We've compiled a variety of these expert blogs for you - offering best practices and breakdowns designed to help IT professionals tackle the top Windows 10 tips, tricks, concerns and more.
Here, in its entirety, is CEO Michael Dell's email to company's employees on what this move means for the business as a whole:
Today, we announced a definitive agreement for me and global technology investment firm Silver Lake to acquire Dell and take it private.
This transaction is an exciting new chapter for Dell, our team and our customers. We can immediately deliver value to stockholders, while continuing to execute our long-term growth strategy and focus on helping customers achieve their goals.
Together, we have built an incredible business that generates nearly $60 billion in annual revenue. We deliver enormous customer value through end-to-end solutions that are scalable, secure and easy to manage, and Enterprise Solutions and Services now account for 50 percent of our gross margins.
Dell's transformation is well underway, but we recognize it will still take more time, investment and patience. I believe that we are better served with partners who will provide long-term support to help Dell innovate and accelerate the company's transformation strategy. We'll have the flexibility to continue organic and inorganic investment, and grow our business for the long term.
I am particularly pleased to be in partnership with Silver Lake, a world-class investment firm with an outstanding reputation and significant experience in the technology sector. They know all the technology business models, understand the value chain and have an extremely strong global network of contacts. I am also glad that Microsoft is part of the transaction, further building on a nearly 30-year relationship.
I am honored to continue serving as chairman and CEO, and I look forward to working with all of you, including our current senior leadership team, to accelerate our efforts. There is much more we can accomplish together. I am committed to this journey and I am grateful for your dedication and support. Please, stay focused on delivering results for our customers and our company.
There is still considerable work to be done, and undoubtedly both challenges and triumphs lie ahead, but as always, we are making the right decisions to position Dell, our team and our customers for long-term success.
Michael