News
Stay informed about the latest enterprise technology news and product updates.
More Windows Troubleshooting Stories
OK, so lately I've been both a little miffed, and more than a little curious, because my Windows 7 problem reporting hasn't been working properly. The error message information to explain why not is pretty darn cryptic and turned up a big, fat goose egg — precisely nothing, that is — when I attempted to run the problem down. Here's what I mean:

Download this free guide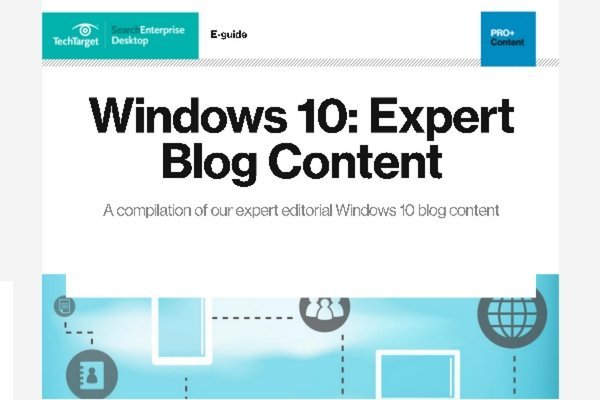 Download: Our 23-Page Editorial Collection of Windows 10 Blog Content
Inside this exclusive download offer, you'll find a compilation of all of our top followed Windows 10 blog content written by our expert editors, who combined have over 30 years of experience in the IT industry. We've compiled a variety of these expert blogs for you - offering best practices and breakdowns designed to help IT professionals tackle the top Windows 10 tips, tricks, concerns and more.
By submitting your personal information, you agree that TechTarget and its partners may contact you regarding relevant content, products and special offers.
You also agree that your personal information may be transferred and processed in the United States, and that you have read and agree to the Terms of Use and the Privacy Policy.
The diagnostics program helpfully offers the options to change error reporting settings, but they're all greyed-out because they're not user accessible. So off I go, haring into gpedit.msc, to see if jacking around with Local Computer Policy will help. Following tips on the Internet apparently related to this problem ('Windows Error Reporting Doesn't Work" or "Group Policy error on Windows error reporting") I try changing settings in Administrative Templates \ Windows Components \ Windows Error Reporting. Nothing helps.
More Internet research tells me that the start-up and troubleshooting management tool, Soluto (which I use and have blogged about here repeatedly), might be at fault. Because a new update to the Soluto software is now available — which makes it smart for me to uninstall the old version before trying out a new one, as I've learned to do from previous major revs of their software — I try running the "Check for Solutions" item in System Center \ Maintenance with Soluto installed, and then again, without it installed.
Bingo! That difference also makes the difference between Windows error reporting (and Check for Solutions) working when Soluto is absent, and presenting the Group Policy error screen when Soluto is present. Very interesting! I certainly hope Soluto is aware of this issue and planning to fix it soon–hopefully in their upcoming first commercial release, scheduled for later this year.
[Follow-up note 12/22/2011: Checked a couple of 64-bit Windows 7 machines also running Soluto, but not the latest version: one rev back. No issues with MS problem reporting or solution lookup on any of these machine. Even more interesting! I'm going to update one of these machines and see if the problem is specific to the 32-bit version only, or affects both 32- and 64-bit machines.]
[Second follow-up 12/23/2011: Just installed the latest rev on two of my 64-bit test machines. Prior to the rev, MS Problem reporting and solution lookup worked fine. After the rev, it showed the same group policy error that also appeared on my 32-bit machine as well. Ladies and Gentlemen: we appear to have a genuine culprit!]