News
Stay informed about the latest enterprise technology news and product updates.
More on Windows 8 RTM: Driver Issues All Solved, Flash Weirdness Presents
As is so often the case, after I upgraded from Windows 8 RP to RTM, I had a few drivers to clean up on each of my test machines (right now, they include a Lenovo X220 Tablet and a home-built desktop with an Asus P8Z68-V Pro Gen3 mobo, i7-2600K CPU, 32 GB RAM, and so on). On the RP version, DriverAgent gave me a clean bill of health for each OS before I started the upgrade process to Windows 8 Pro RTM, and left me with three drivers in need of update on the Lenovo notebook and four drivers on the home-built desktop machine.

Download this free guide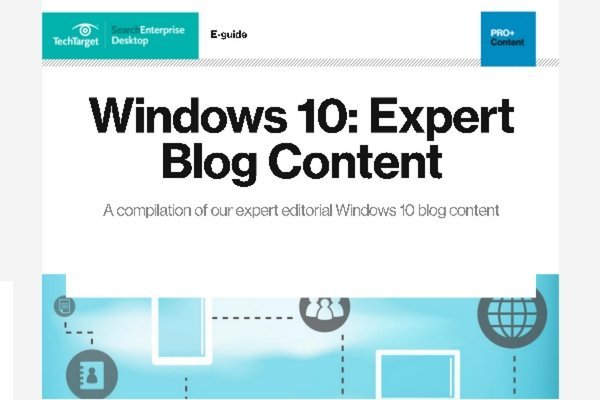 Download: Our 23-Page Editorial Collection of Windows 10 Blog Content
Inside this exclusive download offer, you'll find a compilation of all of our top followed Windows 10 blog content written by our expert editors, who combined have over 30 years of experience in the IT industry. We've compiled a variety of these expert blogs for you - offering best practices and breakdowns designed to help IT professionals tackle the top Windows 10 tips, tricks, concerns and more.
In both environments, Bluetooth proved the most challenging element to find and fix. I was unable to install the recommended Fujitsu driver on the X220 without first unpacking the contents of the recommended ZIP file, then using Device Manager to forcibly update the drivers using the old, familiar "Update my driver" and "Browse my computer for driver software" menu progression for the affected device on that machine. The same approach didn't succeed on my Asus homebrew box, because I ran into software compatibility problems simply trying to run the self-installing executable that DriverAgent said I needed for that machine. I used the technique of clicking the left-hand icon on the device line in the DriverAgent scan to see what else was available to me, as show in this screen capture:
With the second software/driver combination I was able to install a working Bluetooth environment on my desktop PC, and jump the driver currency hurdle in DriverAgent for that machine, as this scan display header attests:
On to the next tangle…
With drivers now finally subdued, I used Secunia Personal Software Inspector (PSI) to check software status on the two Win 8 Pro RTM machines. A quick Chrome and Adobe component (Flash, Shockwave, and Air) quickly got the Lenovo X220 Tablet whipped into shape, but I have to chase another chimera with Adobe Flash on the desktop machine. PSI tells me I need a new 64-bit version of the ActiveX Flash Player (it sees that version 11.3.372.94 is installed). But when I try to perform the auto-update, by accessing get.adobe.com/flashplayer, I get this very interesting error message from the site instead of an auto-update:
But when I try to install the standalone installer for Flash version 11.4.402.265 I get an Adobe error message that reads as follows: "Your Microsoft Internet Explorer browser includes the latest version of the Adobe Flash Player built-in. Windows Update will inform you when new versions of the Flash Player are available." It also provides this explanatory screen:
On the one hand, we clearly see a new version is available, on the other Adobe won't let me install it, and MS isn't pushing the latest version through Windows update yet. Even running the Flash uninstall utility, I wasn't able to force IE 10 to drop the old version and prepare the ground for the new one. I'll just have to wait and see what happens with this, and live with the older Flash Player version in the meantime, I guess…