Problem solve
Get help with specific problems with your technologies, process and projects.
Reactivating Win10/Activation Troubleshooter
Commencing with Windows 10 Insider Preview build 14371 or later, the OS gains some potentially helpful activation capabilities. Users are permitted to link their Microsoft accounts (usually, e-mail addresses used to log into PCs and other Windows devices) to their digital licenses for the OS. These had been called "digital entitlements" until that release, issued when upgrading to Windows 10 from either Windows 7 or 8.1 during the free upgrade period that is about to expire on July 29, 2016. The latest versions include a facility that explains what's involved in Reactivating Win10/Activation Troubleshooter that adds to Windows 10's collection of troubleshooting tools.
Here's what activation info used to look like in older Windows versions (including the Current Branch release, which is Version 1511 Build 10586.420 at the moment):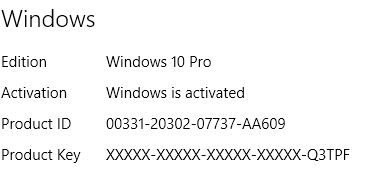 If you install Windows 10 using an actual key, this is what you see in the Current Branch.

If you upgraded to Windows 10 on a PC instead, this is what you see in the Current Branch.
For newer Windows releases (1607 or 1608 depending on how MS decides to version the upcoming Anniversary release), starting with Build 14371, the nomenclature changes from digital entitlement to digital license, and the Settings output for Update & Security/Activation looks like this instead:

If you upgraded to Windows 10, or obtained a license through the Insider Preview program, this is what you see in newer OS versions.
Invoking the Reactivating Win10/Activation Troubleshooter Facility
If you want to read all the details on this new approach to activation it's covered in the Windows 10 Insider Hub on newer OS builds. [Note: the preceding link only works on Windows 10, which knows how to access and present Insider Hub information!] The high points consist of linking a digital license (aka entitlement) to a Microsoft Account (which you'll sometimes see abbreviated as "MSA"), and then various discussions of scenarios under which a digital license might need to be reactivated. This means hardware changes to a Windows 10 PC, and brings access to the newly-minted Activation Troubleshooter into play: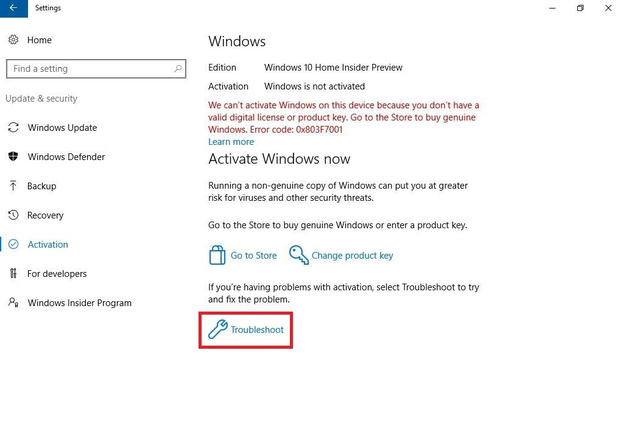 Only when Win10 detects that activation has failed, does the Troubleshooter become available.
[Source: WinBeta "A Closer Look at the Windows 10 Activation Troubleshooter"]
As long as the digital license on the affected PC has been linked to a Microsoft Account prior to the hardware change that causes activation issues to occur, the Troubleshooter can be brought into play. This is how it gets triggered: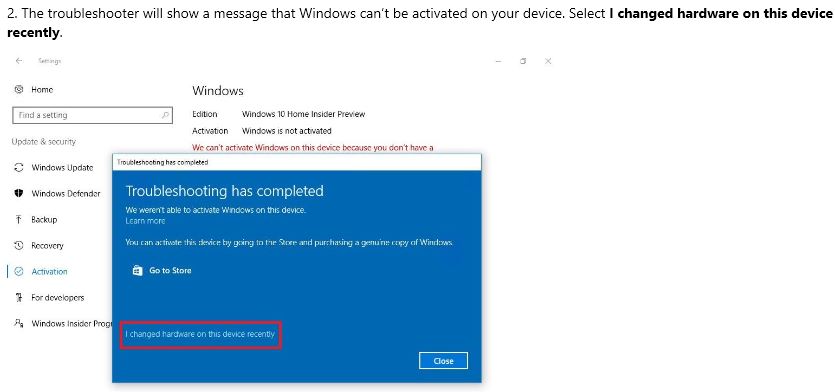 When you click the button labeled "I changed hardware…" this triggers the hardware change algorithms.
Next, you'll be asked to login to your Microsoft Account, and pick the device you've updated hardware in under a selection labeled "This is the device I'm using right now," and selecting "Activate." This triggers a Reactivate Windows 10 dialog that may (or may not) permit you to restore activated status.
This tool has some limitations, including:
The Troubleshooter works only for retail Windows licenses — namely, Windows 10 Home and Windows 10 Pro.
The edition of Windows on the selected device must match the edition linked in the digital license.
The type of device you're activating must match the type of device already linked in the digital license.
The Troubleshooter may be used only a limited number of times (not specified in the Insider Hub article).
The Activation Troubleshooter should make people's lives easier when they upgrade hardware. Typically this kind of thing triggers when changing motherboards and/or CPUs. But its limitations and restrictions still remain largely unexplored. I've pitched one of my editors on writing an article that deliberately tests those limits, and hope to learn more by experimentation after August 2, when the Anniversary Update is currently scheduled to be released.