News
Stay informed about the latest enterprise technology news and product updates.
Script Browser Makes 10K-plus PowerShell Scripts Immediately Available
This interesting post last week on the Windows PowerShell Blog is entitled "A World of Scripts at your Fingertips — Introducing Script Browser," and explains how you can download the aforementioned item to run inside the PowerShell ISE (Integrated Scripting Environment). This grabs a Microsoft Software Installer (.msi) file that's 1,390 KB in size, and runs a search tool from inside the ISE to help users browse through over 10,000 PowerShell scripts available from TechNet, the PowerShell team at Microsoft, and the folks at "the Garage."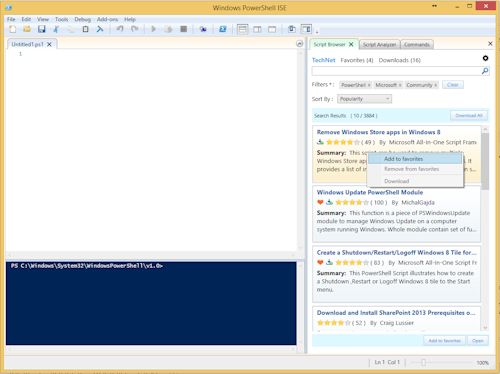 Though the screen cap is too small to read in detail, you can consult the full-size original for easier deciphering.
Adding this tool to your PowerShell ISE environment produces two additional add-on tabs in the pane at the right-hand side of the UI, as shown above. The left-most tab is labeled "Script Browser" and provides entry to a search dialog like the one shown below: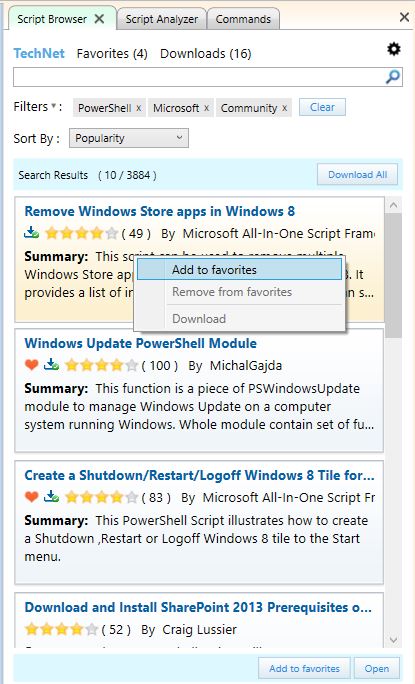 The search box pane permits users to search and peruse elements from a huge collection of scripts; very handy.
You have the ability to filter searches by resource (PowerShell, Microsoft, Community), various ways to categorize listings, and easy access to summary info and download links for each search hit.
The script analyzer, which appears in the second tab from the left, labeled "Script Analyzer," provides access to marked up script listing data in the left-hand pane, and error messages in the right hand pane, which makes it an excellent run-time debugging tool.
All in all this is a powerful, helpful, and free tool for script-heads to download and use. Highly recommended.