News
Stay informed about the latest enterprise technology news and product updates.
Surface Pro Power Cord Exchange Dead Simple
In case you missed the news, MS has issued a recall on the power cords from all Surface Pro, Surface Pro 2, and Surface Pro 3 models sold before March 15, 2015. As the owner of a Surface Pro 3 purchased on 3/14/2014 — according to my online warranty info for the device — I'm entitled to claim a replacement, as are others who own Surface Pro machines of the proper vintage.

Download this free guide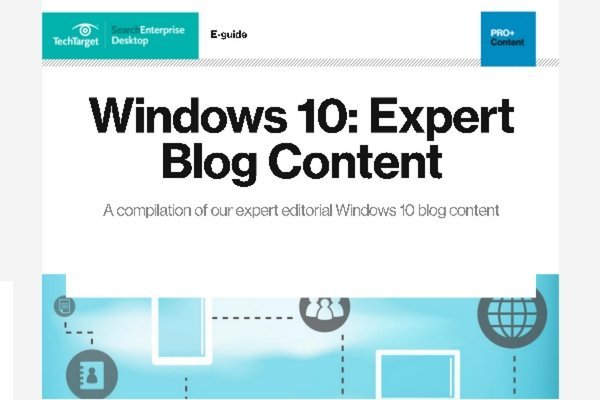 Download: Our 23-Page Editorial Collection of Windows 10 Blog Content
Inside this exclusive download offer, you'll find a compilation of all of our top followed Windows 10 blog content written by our expert editors, who combined have over 30 years of experience in the IT industry. We've compiled a variety of these expert blogs for you - offering best practices and breakdowns designed to help IT professionals tackle the top Windows 10 tips, tricks, concerns and more.
Always glad to avoid potential hardware troubles or failure, I visited the "Microsoft AC power cord recall…" web page to request my replacement unit. To complete that process, I had to first sign into my Microsoft account, verify my ship-to information, select my Surface Pro 3 device by serial number, and then submit the replacement request. The whole shebang took less than a minute to complete, and didn't require me to jump through any unduly unpleasant hoops. One must, of course, have registered all Surface Pro units beforehand to make it this simple, or register all such units before requested cord replacements. For those who must do this for multiple Surface Pro units, as in many businesses where IT will request them en masse, it's a good idea to print out a list of their serial numbers in advance, because that's the identifier that MS uses to distinguish among such units. And alas, AFAIK, a separate replacement request must be submitted for each affected Surface Pro unit on a one-off basis.
Here's the culprit, which apparently suffers from shorting potential if the cord itself is tightly wound or sharply kinked.
I hadn't noticed any signs of trouble with my power cord, but then again, I mostly use the AC cord that plugs into the Sruface Pro 3's dock enclosure anyway. It is not subject to the same recall (nor would one need to mess with its power cord much anyway, under ordinary circumstances). That said, it's nice to benefit from Microsoft doing things right, and making it easy for its affected customers to participate in a recall.