News
Stay informed about the latest enterprise technology news and product updates.
TechNet Article: Win10 Deployment Tools Updated
Although plenty of third-party options are available, Microsoft offers a pretty complete set of deployment tools for Windows 10. Given a recent update to its coverage and links, the TechNet Article: Win10 Deployment Tools demands a fresh read. There's a lot of new stuff to ponder here aimed at Windows 10. It should be quite interesting for those involved in or planning Windows 10 deployments.

Download this free guide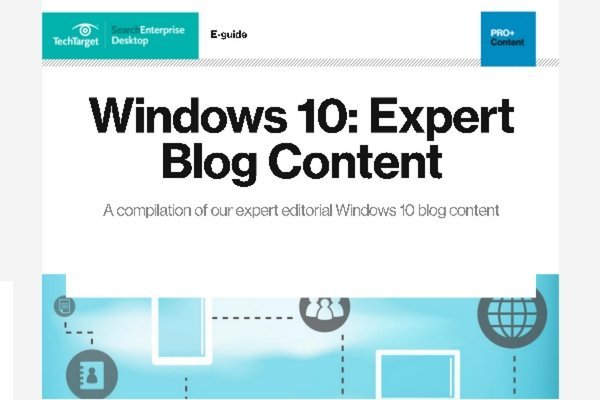 Download: Our 23-Page Editorial Collection of Windows 10 Blog Content
Inside this exclusive download offer, you'll find a compilation of all of our top followed Windows 10 blog content written by our expert editors, who combined have over 30 years of experience in the IT industry. We've compiled a variety of these expert blogs for you - offering best practices and breakdowns designed to help IT professionals tackle the top Windows 10 tips, tricks, concerns and more.

This recent TechNet article lays out new Win10 deployment topics.
"New and Improved" TechNet Article: Win10 Deployment Tools
Topics covered in this article include the following, most with recently updated pointers or links
Windows Assessment and Deployment Kit for Windows 10 (Windows ADK for Windows 10; see also Scenarios for IT Pros)
Deployment Image Servicing and Management (DISM Technical Reference, updated 8/8/2016)
User State Migration Tool (USMT Reference, updated 8/11/2016)
Windows Imaging and Configuration Designer (Windows ICD, aka WICD, pronounced "wicked", WICD Reference from Hardware Dev Center)
Windows System Image Manager (Windows SIM Reference from Hardware Dev Center)
Volume Activation Manager (VAMT Technical Reference, updated 8/11/2016)
Windows Preinstallation Environment (Windows PE Intro, from Hardware Dev Center updated 8/8/2016)
Windows Recovery Environment (Windows RE Reference, from Hardware Dev Center updated 8/8/2016)
Windows Deployment Services (WDS)
Trivial File Transfer Protocol (TFTP) configuration (used for PXE boot)
Microsoft Deployment Toolkit 2013 Update 2 (MDT 2013 Update 2) Updated for Windows 10
Microsoft Security Compliance Manager 2013 (Microsoft SCM)
Microsoft Desktop Optimization Pack (requires an MDOP subscription, info comes from Windows TechCenter)
Internet Explorer Administration Kit 11 (IEAK 11 Information and Downloads, from the Browser TechCenter)
Windows Server Update Services (WSUS Overview)
UEFI and System Deployment (UEFI firmware overview)
By my reckoning, half of this content is either brand-new or substantially revised. Hopefully, that explains why I recommend revisiting what IT pros may think they already know. I tried to chase this newer stuff down with TechNet and MS website searches, and found links provided here fresher and more relevant than those search results.