News
Stay informed about the latest enterprise technology news and product updates.
The Windows 8 Upgrade Experience
OK, so now I've been through it, too. On my brand-new Dell XPS-13, I've exercised the $14.99 upgrade to Windows 8 (followed by a $40 Upgrade to Windows 8 Pro) to catch the machine's OS up Microsoft's latest and greatest offering. I followed up the Dell "Windows 8 Upgrade Offer," charged it to my credit card, then downloaded the upgrade. Along the way, I encountered two very interesting Windows 8 Store app-style screens: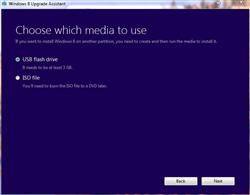 Left side reads: Install now/Install by creating media/Install later from desktop
Right side reads: USB Flash Drive/ISO File
Unlike the pre-release version, Windows 8 offers more upgrade options than with previous versions (which ostensibly required clean re-installs to move from one version to the next, but which could be "tricked" into upgrading). I especially like the option of creating a bootable UFD (USB Flash Drive) because it can be re-used more than once after it's created (though you must use a different key for each install, and the $15 upgrade process — including collecting the all-important install key — MUST be run on the intended target machine). The $40 upgrade is a little more forgiving: you can pay for up to 5 keys on a single machine, then use them with the UFD for other machines where you want to go through the upgrade motions.
FWIW, I elected to forgo the "upgrade right away" option on my XPS-13 because I had some Intel driver issues to fix that required uninstalling Wi-Fi, along with a few other odds and ends, before I could apply the upgrade. Since Wi-Fi is the only networking option built into the XPS-13 — as an ultrabook, it lacks an RJ-45 port for wired Ethernet — I elected to burn a USB drive with a bootable OS image, and then install later, after I cleaned up my drivers and installed and used my wired StarTech USB 3.0 GbE interface for networking instead. All of this worked reasonably well, and the whole process took just under an hour to complete. But I did also have to spend some time cleaning up drivers before I could lurch ahead into the outright OS install process.
Another word of warning: make sure you have ready access to your Windows 8 key, because when you run the Installer, it asks for the key BEFORE it runs the compatibility check. Because of this ordering — which made me a little nostalgic for the days of standalone compatibility checkers — I had to print my key from the XPS-13 running Windows 7 before booting into the install UFD, to re-run the compatibility check to create my "to do" list of things to clean up before running the installer again. In fact, the compatibility check comes about 5 steps into the installation process, which makes it tedious to have to repeat it more than once, so be prepared to print or otherwise capture your own to-do list the first time you run the Updater, and you may save some extra time that way. But the Installer does give you the option of uninstalling offending items directly, as shown in the screen cap, and picks up where it left off after a reboot so all goes pretty well along the way. I chose that option for the XPS-13 and it worked spiffily, but added 10-12 minutes to the overall install time. My advice is to do a clean reinstall, unless you have compelling reasons to keep elements of your current Windows 7 installation around.
Once the install completed, I ran DriverUpdate to see what needed to be found and re-installed to make the machine's drivers current. Curiously, it was mostly Intel stuff that needed to be brought back up to snuff. Took about 2 hours to get everything as squared away as I could (DriverAgent says the system needs a new version of WiDi, but I can't get the recommended program to find any WiDi adapters; looks like I have to take it into the living room with my new Samsung SmartTV).
Here's what I get from the Windows Experience survey in Windows 8 on this machine:
Between my MSDN license (which gets me 5 licenses each for Windows 8 and Windows 8 Pro, plus one Windows 8 Enterprise license) and the 5 licenses I can buy through the $40 upgrade program, plus the one el-cheapo I qualify for on my Dell XPS-13, I think I'm taken care of as far as Windows 8 licenses go. But life will be harder for those pirates who seek to exploit low-cost TechNet and MSDN licenses, and I hope the low prices on legit upgrades will spur users to purchase them on the open market rather than on the grey-to-black market, instead. As upgrades go, this one didn't kill me and isn't terribly different from the Vista-to-7 or XP-to-7 experience.